Final report and policy resolution: WGA Biosecurity and Invasive Species Initiative
Posted on Jun 12, 2019 in News, slider
In 2018 Governor Ige launched the Biosecurity and Invasive Species Initiative (BISI) as chair of the Western Governors' Association (WGA). The year-long initiative has included a number of projects designed to increase collaboration and action across western states and Pacific territories with regard to invasive species prevention and control. The initiative included four workshops to bring experts together from across the region to identify new solutions to these problems, as well as a series of online webinars to better engage stakeholders on this topic. In June 2019 the WGA released a final report and policy resolution for the initiative, which focuses on several overarching themes to strengthen biosecurity in the West:
Protect the West from the introduction of new invasive species through enhanced biosecurity practices, preparedness and planning.
Improve cross-boundary collaboration and coordination for the management of established and emerging invasive species in the West.
Empower state and federal agencies to manage invasive species.
Support and utilize new biosecurity research, technology and planning tools.
Standardize and mobilize invasive species data.
The specific findings of the Initiative and the recommendations in the policy resolution are available through the resources below.
Initiative Workshops
Full video archives of each of the four regional workshops are available online.
Initiative Webinars
Full video of each webinar is available at the links below.
Biosecurity and Invasive Species Initiative Final Report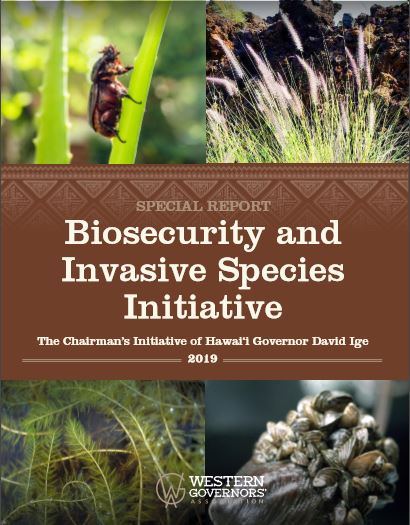 The Western Governors' Biosecurity and Invasive Species Initiative Report highlights the work of Western Governors to confront the challenge of nuisance species and pests on western ecosystems. The past year's workshops and webinars of the Initiative focused on the role of biosecurity in addressing the risks posed by invasive species. Read the report online or download the report from WGA. 
WGA Policy Resolution 2019-06, Biosecurity and Invasive Species Management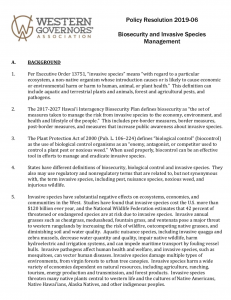 This resolution addresses invasive species management and adds substantial new policy direction emerging from the WGA Biosecurity and Invasive Species Initiative. Among these new policies are a call for the creation of a new Western Invasive Species Council; new mechanisms to enhance regional invasive species research, planning and coordination; and recommendations to Congress and federal agencies on improving invasive species management on federal lands and supporting state-led management efforts. Read the resolution online or download the resolution from WGA. 
Initiative Summary Video