HISC Strategic Plans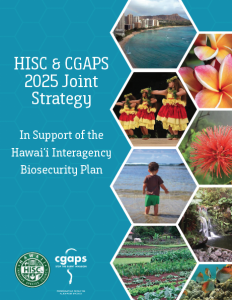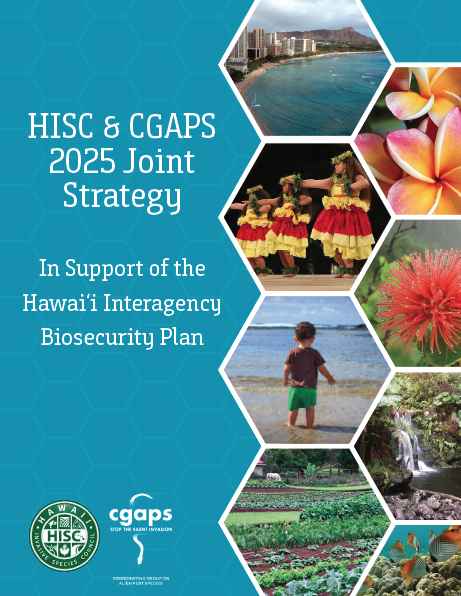 The State Legislature declared invasive species as the single greatest threat to Hawaii's economy, natural environment, and the health and lifestyle of Hawaii's people and visitors (LRB 2015).  The 2025 Joint Strategy for the Hawaiʻi Invasive Species Council (HISC) and the Coordinating Group for Alien Pest Species (CGAPS) reflects the highly productive collaboration of these two statewide networks to achieve our shared vision:  
Hawaii's natural environment, agriculture, economy, 
and the health, lifestyle, and culture of its people 
are protected from the impacts of invasive species.  
This HISC & CGAPS 2025 Joint Strategy (HISC/CGAPS 2025) builds on more than 25 years of effective action, successful network-building, gap analyses and lessons learned – starting with the creation of CGAPS in 1995 and the establishment of HISC by state statute in 2003. The strategies and key actions outlined in the plan were developed using a broad participatory process with input form more than 100 partner across both networks and in support of the actions identified in the 2027-2027 Hawaii Interagency Biosecurity Plan.
Every strategy requires collaboration by many partners; none of this work can be accomplished by a single agency or organization. As part of the planning process, the HISC Working Group's were restructured to based on the Strategies. HISC staff is working with the current WG chairs to develop action plans and schedule the first Working Group meetings under the guidance of the 2025 Strategy in early Fall 2020. The HISC Working Groups and Chairs are listed below. More information will follow. 
PREVENTION/EARLY DETECTION & RAPID RESPONSE; Jonathan Ho (HDOA PQ)
LANDSCAPE-SCALE CONTROL; Rob Hauff (DLNR DOFAW)
COMMUNITY ENGAGEMENT; Christy Martin (CGAPS)
AQUATIC BIOSECURITY; Jules Kuo, Kim Fuller (DLNR DAR)
HISC PARTNER NETWORK; HISC Staff
You can view the full plan here: HISC & CGAPS 2025 Joint Strategy
Executive Summary also available.
Two non-regulatory species lists were developed in support of Strategies 1,2, & 3 to guide those key actions related to prevention:
Appendices are available upon request. You can email Chelsea Arnott at [email protected]
---
Past plans:
HISC Strategic Plan, 2015-2020
HISC Strategic Plan, 2008-2013
Interim Strategic Plan, 2005-2008