Barbados Gooseberry

Barbados gooseberry (Pereskia aculeata)
Hawai'i-Pacific Weed Risk Assessment Score: 13 High Risk.
Regulatory Status: None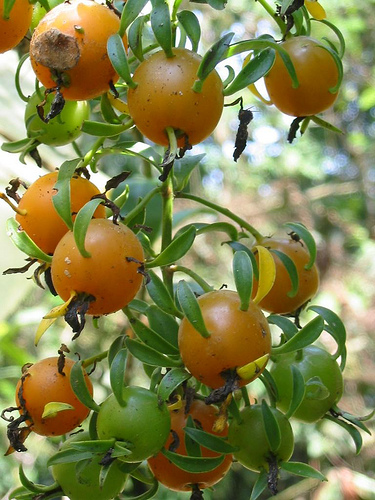 Prevention and Control Category: KISC Target Species. MoMISC Target Species. BIISC Target Species.
Report this species

Description
Barbados gooseberry is a Woody shrub when young, but grows into climbing, leafy cactus, with branches are up to 11m (33 ft) long. It has fragrant flowers which can be lemon, sweet, or repulsive smelling and round yellow-red berries.
Impacts
Forms dense, thorny thickets in low elevations, overgrows and replaces other plants
It is extremely thorny with spines on both the trunks and vines
Destroys patches of forest by growing up into the canopy and smothering the trees
Easily spread by rooting broken stem fragments as well as by birds when seeds are present
Has become a major weed in South Africa where it is an escaped ornamental
Distribution
Native to the West Indies and the northern coast of South America, introduced intentionally to Hawaii for as an ornamental and for its fruit. On Kauai, individual small populations have been found in Lawai, Poipu, and Aliomanu. KISC is treating opportunistically with landowner permission. On Molokai, it is present in Halawa Valley. MoMISC is working to eradicate this species. On Oahu, this species is known from cultivation at experiment stations in Honolulu and Haleiwa. Not currently an OISC target. Landowners are asked to remove this pest and replace with a non-invasive alternate.BIISC is working to control small populations also occur on Big Island. 

For more information, see: