Cane Tibouchina
Cane Tibouchina (Tibouchina herbacea)
Hawai'i-Pacific Weed Risk Assessment Score: 24. Visit http://www.hpwra.org for more info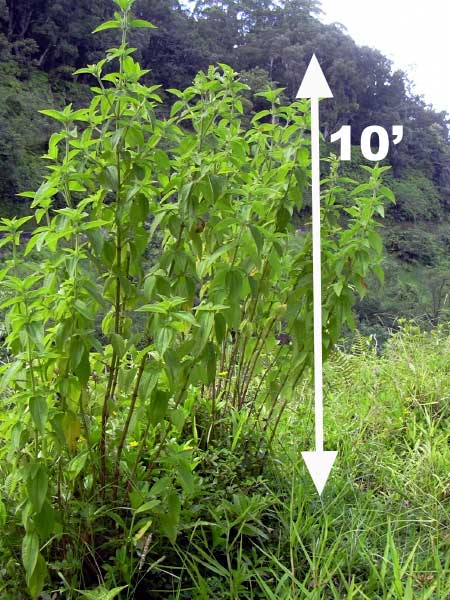 Regulatory Status: Hawaii Noxious Weed List (HAR 68)
Prevention and Control Category: OISC Target Species
Report this species if seen on Oahu

Description
This shrub is semi woody and can grow up to 9′ tall. The young stems are angled and hairy. The leaves are opposite, 3″ long by 1.4″ wide, hairy, and have 5-7 prominent veins. The flowers are pink and have 4 petals with bright yellow anthers. The fruit is cup-like and extremely small. The seeds are very small and numerous.
Impacts
This plant is a prolific seeder and spread by birds. It forms dense stands in pastures and can also invade disturbed forest areas, displacing native species.
Distribution

This shrub is native to southern Brazil, Uruguay, and Paraguay. Cane tibouchina has heavy infestations on Maui and Big Island. It occurs in the northern Ko'olau range on O'ahu, as well as on Moloka'i and Lana'i, and in Hilo, including lower Saddle Road on Hawai'i. This pest is not known to be on Kauai. Please report any new sighting of this pest!
What you can do
If you see this species, call 643-PEST or visit www.reportapest.org to find out if this plant is controlled on your island.
Look-alike Species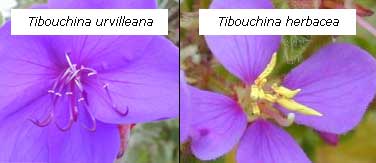 Glorybush (Tibouchina urvilleana): Also called princess flower, this is another Melastome species that can be very invasive. It has larger, purple flowers with five petals and can grow up to 12′ tall. The anthers of this plant are purple, unlike the yellow anthers of cane tibouchina. This plant can be seen in Koke'e, naturalized along the roadside. THIS LOOK-ALIKE IS ALSO A PEST!
Asian melastome (Melastoma candidum, M. septemnervium): This is a spreading shrub that forms tangled brush between 5′ to 15′ tall. Each flower usually contains five to six petals, averaging 1″ long. This plant is widespread across Kaua'i. THIS LOOK-ALIKE IS ALSO A PEST!
For more information, see