Ivy Gourd
Ivy gourd (Coccinia grandis)
Hawai'i-Pacific Weed Risk Assessment Score: 21 High Risk. Visit Plant Pono HPWRA page for more info
Regulatory Status: State Noxious Weed (HAR 68)
Prevention and Control Category: KISC Target Species. MISC Target Species
Report if seen on Kauai or Maui
Description
This aggressive perennial vine of the cucumber family has star shaped flowers with 5 petals and smooth bright red fruit that are 1-3" long. The leaves are alternate and variably shaped (sometimes deeply lobed.) Stem and leaves of the vine are mostly smooth (without hair).
Impacts
Vines grow over and smother vegetation, cover fences and power lines. It threatens natural and managed areas. It is extremely difficult to control because plants regrow from deep roots, even after treating with herbicide. Although ivy gourd requires cross-pollination between male and female plants, it is able to spread quickly and can grow up to four inches per day.
Distribution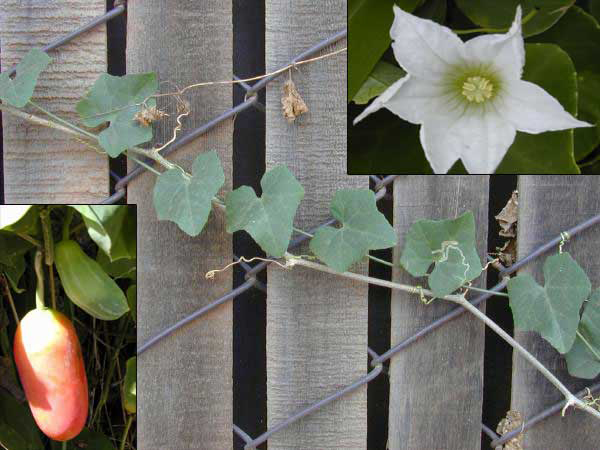 Kauaʻi: Present in limited areas, appears to have been planted for personal use in some areas.
Oʻahu: Widespread around Waimānalo, Honolulu, Ewa, North Shore, and offshore islets.
Maui: Localized infestations occur in Kapalua, Kīhei, and Lahaina. Isolated plants have been seen in Kahului, Makawao, and Waiehu.
Molokaʻi: Not yet known to be present on Molokai. MoMISC is monitoring and asks for the public to help look for and report any sightings. 
Lanaʻi: Two known locations.
Kahoʻolawe: None known.
Big Island: Widespread around Kona.
What you can do
Report any plants found on Kauaʻi, Molokaʻi, or Maui.  Please avoid planting anywhere in the state. If you would like to control ivy gourd on Oʻahu or Big Island, refer to the control methods suggested below.
Look-alike Species
English ivy (Hedera helix): A nonnative vine that has similar leaves. It does not have the ear-shaped appendages (or stipules) at the base of the leaf stalk. THIS PLANT IS ALSO INVASIVE
Bitter melon (Momordica charantia): Bitter melon is a fast growing vine also in the cucumber family. It has thin stems and deeply lobed, alternate growing leaves that are often covered in hairs. It produces yellow flowers and has oblong, prickly fruits that turn from green to yellow or orange at maturity.
ʻĀnunu (Sicyos species): The native Hawaiian vines of the cucumber family are found sparsely across Hawaiʻi and include some endangered species. Leave shape and flower color are variable, but all varieties have a smaller, roughly pencil sized, vine covered in black dots and much smaller flowers (between .2-.4" diameter) that grow in bunches.
Additional Information