2022 Hawaiʻi Invasive Species Awareness Month Awards
Posted on Feb 28, 2022 in News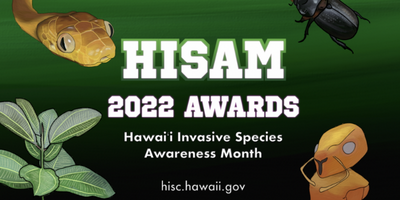 As part of these celebrations, the Hawaiʻi Invasive Species Council (HISC) Support Program coordinates a nomination and award process to recognize the contributions of individuals, organizations, and businesses in the fight against invasive species. The 2022 HISAM Award recipients are presented below by members of the Hawaiʻi State Legislature. Mahalo to our award winners for their contributions to making our islands safer and more biosecure!
2022 Hawaiʻi Invasive Species Awareness Month Awardees
Click on the links below to see the award videos for each awardee. 
Full playlist of HISAM 2022 award videos.

Learn about the 2022 awardees' stories in this story map.