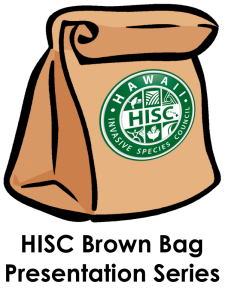 The Hawaii Invasive Species Council is proud to announce a new, ongoing series of informal lunchtime presentations to facilitate information sharing regarding invasive species. This series aims to provide a forum for updates from HISC partner agencies, presentations about the achievements made by HISC-funded projects, or updates from the HISC Support Program. The HISC Brownbag Series will be hosted online via WebEx so that interested parties can join in from across the state. 
The first two HISC Brownbag presentations will be given by HISC Support Program staff, after which we are looking for volunteers from HISC agencies or HISC-funded projects to present and share their work:
HISC Brown Bag #1 
Title: 4th Annual Pacific Invasives learning Network Meeting;Hawaii Invasive Species Council Brownbag Series: no. 1
Presenter: HISC Planner, John-Carl Watson
Summary: 18 countries from throughout the Pacific region got together in Samoa to for the 4th Annual PILN meeting. The meeting included the launch of three new tools for Pacific Invasive Battlers, individual country, scenario oriented workshops, and field trips to local conservation areas.
Powerpoint: HISC Brown Bag 1: Pacific Invasives Learning Network
New Tools include:
Battler Resource Base

Searchable knowledge resource database

Pacific Invasive Ant Toolkit www.piat.org/nz
Pacific Invasive Species Battler Series

How-to guides for practical action
http://www.sprep.org/piln/resource-base
Country Updates: A representative from each attending country gave a brief update on their local priorities, management strategies, challenges, successes, skills, or techniques.
Samoa – Forest Resilience
American Samoa – Ants, invasive trees, myna bird
Fiji – Eradication and biosecurity
French Polynesia – Invasive plant control, LFA
Kiribati – Myna eradication, yellow crazy ant control
Hawaii – Albizia management
Kosrae – Rainbow termite and other IS
Marshall Islands – IS control efforts
New Caledonia – Deer control
Niue – Feral Pig control
Solomon Islands – African Snail, CRB
Tokelau – IS in Tokelau
Tonga – Rodent
Vanuatu – LFA and biocontrol
Wallis Fortuna – Albizia management
Federated States of Micronesia – IS efforts in Yap