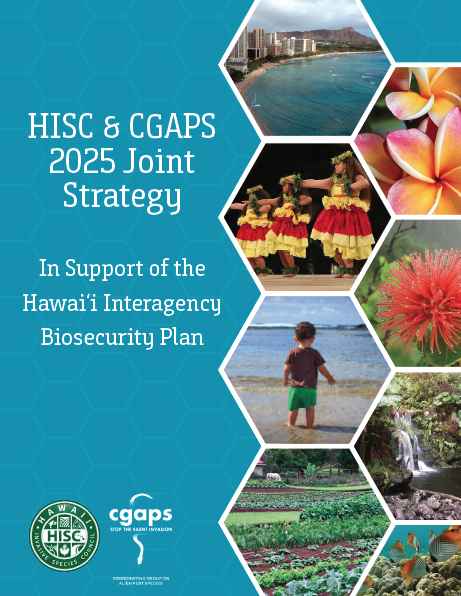 After approximately a year of stakeholder engagement and collaborative priority setting, the Hawai'i Invasive Species Council (HISC) and the Coordinating Group on Alien Pest Species (CGAPS) are pleased to announce the release of a final HISC & CGAPS Joint 2025 Strategy. This document replaces both the 2015-2020 HISC Strategic Plan and the 2015-2020 CGAPS Strategic Plan. The new Joint Strategy recognizes the important collaborative work happening across these two distinct, but related, networks.
The HISC & CGAPS Joint 2025 Strategy is built on the foundation of the Hawaii Interagency Biosecurity Plan, which was developed by an interagency team led by the Hawai'i Department of Agriculture and was released in 2017. The Biosecurity Plan is the primary guiding document for biosecurity and invasive species efforts in Hawai'i through 2027. The Joint 2025 Strategy specifically looks at what the HISC and CGAPS networks can do, whether individually or together, to better assist agencies and other stakeholders in the implementation of the Biosecurity Plan. The 10 new joint strategies are each associated with a number of key actions specified within the strategy document:
Prevention & Early Detection/Rapid Response for New Terrestrial Invasions
Inter/Intra-Island Movement of Terrestrial Invasive Species
Aquatic Biosecurity
Large-Scale Control of High-Impact Invasive Species
Pacific Regional Biocontrol Center
Increased & Diversified Funding for Invasive Species Priorities
Engaged & Supportive Community
HISC Engagement Across Sectors
Strong CGAPS Network
Stable CGAPS Funding & Staffing.
The HISC has restructured its informal working groups based on the new strategies, with meetings of the new working groups planned for fall 2020. To better focus and track progress on prevention and control actions, the networks also worked with the Hawai'i Department of Agriculture to develop new, non-regulatory lists for priority species for which distribution information will be updated annually. Full details on the new working group structure and priority lists for prevention and control can be found at https://dlnr.hawaii.gov/hisc/plans/.
The HISC & CGAPS Joint 2025 Strategy can be found both on the HISC website and the CGAPS website. We thank all of the stakeholders who helped develop this new strategy and look forward to working collaboratively to protect Hawaii's natural environment, agriculture, economy, and the health, lifestyle, and culture of its people from the impacts of invasive species.