Palau National Invasive Species Committee

The Palau National Invasive Species Committee (NISC) was created by the National Environmental Protection Council (NEPC) through Resolution #2 on January 21, 2004. This action was taken in response to Presidential Executive Order 219, which directed the NEPC to create such a committee. In December 2008, by Executive Order 251, the NISC was separated from the NEPC and made an advisory body to the President and his Cabinet.
The NISC role is one of advice, facilitation, and coordination. The member agencies and organizations of the NISC, in cooperation with local and regional partners, implement activities for prevention, management (including control), and eradication of invasive species. The benefits of the NISC are clear: setting of national priorities; review and endorsement of projects and proposals; review and comment on regulations and plans; advice to decision-makers; and cooperation with regional and international efforts to combat invasive species. The Chair of the NISC is Mr. Fred Sengebau, Director of the Bureau of Agriculture.
 COMMITTEE MEMBERSHIP: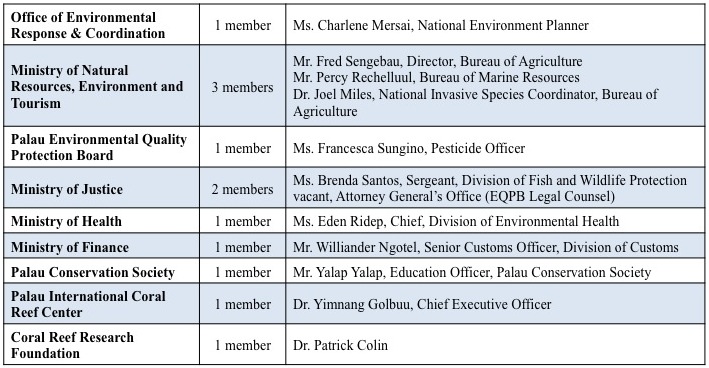 NEWS AND NOTEWORTHY:
Southwest Islands Women Take the Lead on Invasive Species
RESOURCES:
PALAU INVASIVE SPECIES AWARENESS:
2015 National Invasive Species Awareness Day
MEETING MINUTES:
2015: