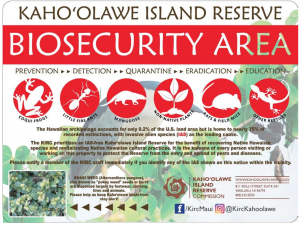 The Kaho'olawe Island Reserve Commission (KIRC) has produced the first-ever Kaho'olawe Biosecurity Plan, detailing the unique history of the island and the threats posed by invasive species. The plan analyzes potential pathways for invasive species to reach the island and provides protocols and best management practices for mitigating invasive species risks. The plan covers a vast array of topics including:
Protocols for monitoring the Kihei office and boat yard for invasive species that could accidentally be transported to Kaho'olawe
Quarantine protocols and educational signage targeted at contractors and other visitors to the island
Protocols for inspecting boats and equipment traveling to the island
An inventory of non-native species on the island and potential directions for control and restoration
The Kaho'olawe Biosecurity Plan was prepared by KIRC staff including Lyman Abbott, James Bruch, and Paul Higashino. Funding support to produce the plan was provided by an FY16 award from the Hawaii Invasive Species Council. The full plan is available below and more information is available on the KIRC website.