DLNR Proposes to Protect and Restore Native Forests in Hono O Na Pali Natural Area Reserve
DLNR Proposes to Protect and Restore Native Forests in Hono O Na Pali Natural Area Reserve
Posted on Nov 12, 2013
DEPARTMENT OF LAND AND NATURAL RESOURCES
News Release
NEIL ABERCROMBIE
GOVERNOR

WILLIAM J. AILA JR,
CHAIRPERSON
For Immediate News Release October 28, 2011
DLNR PROPOSES TO PROTECT AND RESTORE NATIVE FORESTS
IN HONO O NA PALI NATURAL AREA RESERVE
Draft environmental assessment now available for public comment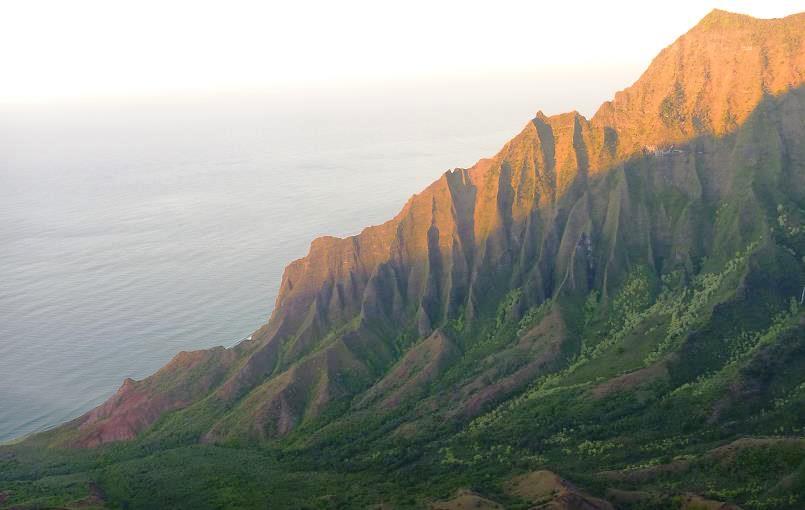 LIHUE, KAUAI – Stretching from sea level along the picturesque Na Pali up to the Alaka'i plateau, Hono O Na Pali Natural Area Reserve occupies 3,580 acres of native forests in the Hanalei and Waimea Districts, including the Hanakāpī'ai, Hanakoa, and Waiahuakua ahupua'a.
Although much of the high elevation interior remains relatively undisturbed, there are severe threats to the health and long-term integrity of the reserve. When state wildlife managers first began exploring the interior of the reserve, they were alarmed to find invasive weeds such Australian tree fern and Kahili ginger, seabird kills by feral cats, and networks of pig and goat trails in areas that were extremely remote and thought to be pristine.
Now the Department of Land and Natural Resources has updated its management plan to protect and manage one of the best remaining forest ecosystems in Hawai'i, as well as the rare and endangered plant and animal species it supports. The new draft plan replaces an outdated on originally written in 1989, and outlines proposed management actions for the Reserve over the next 10 years.
The Division of Forestry and Wildlife has prepared a Draft Environmental Assessment (DEA) for the draft management plan, and as part of the public review process and environmental compliance under Hawaii Revised Statute 343, the DEA is now available for review and comment until November 23. It can be found online together with the management plan at: http://hawaii.gov/dlnr/dofaw.
"It is our kuleana to make sure that our future generations are able to experience and enjoy the incredible plants and animals that are only found in these islands. By protecting the Hono O Na Pali Natural Area Reserve, we protect what makes Kaua'i unique" said William Aila Jr., Chairperson of the Department of Land and Natural Resources.
"Hono O Na Pali contains an amazing amount of biological diversity and much of the reserve above 3,000 feet is relatively undisturbed; it is a real treasure on Kaua'i," said Michael Wysong Natural Area Reserve System program manager for the Department of Land and Natural Resources Division of Forestry and Wildlife on Kauai.
In addition to removing feral pigs and goats from the protected area, proposed management will also include the protection of endangered seabirds and forest birds, control of priority weed species such as Australian tree fern and Kahili ginger, and restoration of rare plants.
The new draft management plan is centered on a project to use strategic fences and natural barriers, in order to better protect 2,290 acres of upper elevation wet forest from the devastating impacts of feral pigs and goats. These animals are known to quickly degrade habitat and spread invasive weeds thereby contributing to the decline of healthy forests.
Once these barriers are in place, staff plans to remove the animals inside through a combination of hunting and trapping, including using local hunters to help with the initial animal control efforts.
"Public hunters have been a very valuable resource for our program," Wysong says. "They have helped us to manage goat and pig populations in the lower part of the Reserve along the Na Pali Coast, and we are excited to continue to work with them on this project."
Public access to the area will not be affected by proposed actions. Gates and step-overs will be installed at trails and access points along fences to facilitate access for hikers, hunters, gatherers, and others who use this area.
The Reserve is part of the Division of Forestry and Wildlife's Natural Area Reserves System; a program created in 1971 to protect the State's unique ecosystems. The program actively manages these reserves to preserve the special characteristics that make these areas an integral part of the natural and cultural heritage of Hawai'i.
Currently, there are 20 Natural Area Reserves in the state encompassing 123,431 acres. Hono O Na Pali is one of two reserves on the island of Kauai.
Originally designated in 1983, Hono O Na Pali was established to protect streams, forests, and rare plants and animals. The Reserve is home to numerous federally listed endangered species including 48 species of plants, 3 species of forest birds, 3 seabird species, and one species of Hawaiian picture-wing fly. The Hawaiian duck, or Koloa, has also been known to nest in the Reserve.
For more information on Hawaii's Natural Area Reserves System, please go to:
http://hawaii.gov/dlnr/dofaw/nars or you can contact the Kauai program directly at 274-3442
# # #
For more information news media may contact:
Deborah Ward
DLNR Public information specialist
Phone: (808) 587-0320