Statewide Forestry Information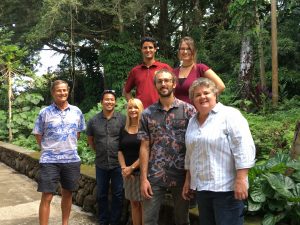 Hawai'i Wood Utilization Team: The Team consists of experts from various wood-related industries with the common goal of stimulating innovation and expansion of wood product markets in Hawaii, with a focus on wood-based building materials.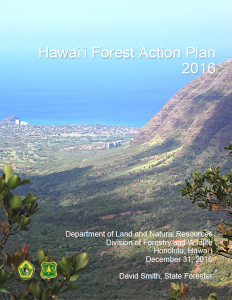 Forest Action Plan: A document including an assessment of statewide forest conditions and trends, a report on all forest land ownership —state, private, and federal, and an evolving management plan for Hawaii's forests. The plan identifies nine priority areas for Hawaii's forests that include: forest health, invasive species, insects and disease; wildfire; urban and community forestry; climate change and sea level rise; conservation of native biodiversity; hunting, nature-based recreation, and tourism; forest products and carbon sequestration; and U.S. tropical island state and territorial issues. 
Big Tree Program: Run by American Forests, the National Big Tree competition seeks to find the biggest tree of its species in the United States to promote and preserve our tree species. In Hawai'i, our goal is to educate the public about our native and culturally valuable tree species. The State of Hawai'i currently has twenty-one eligible species to be crowned a National Big Tree Champion. Do you know of a potential Big Tree Champion? Contact us! 


Forest Nurseries: The State Nurseries provide high quality native and endangered plants, and windbreak trees for both the public and state sponsored out-plantings and reforestation projects.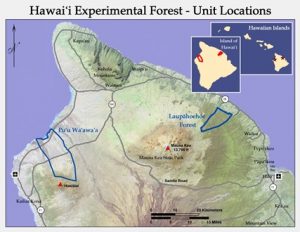 Experimental Tropical Forest: The Hawai'i Experimental Tropical Forest (HETF) is part of a network of U.S. Forest Service (USFS) Experimental Forest and Range units across the United States. The USFS, Pacific Southwest Research, Institute of Pacific Islands Forestry, DLNR – Division of Forestry and Wildlife, and the Division of State Parks work together to manage conservation research and education activities within the two units in Hawai'i: the Laupāhoehoe Wet Forest, and the Pu'u Wa'awa'a Dry Forest. 
Hawaii Grown Christmas Trees: Interested in the Market Potential for Hawaii-Grown Christmas trees? Please refer to the Hawaii-Grown Christmas Tree Market Potential.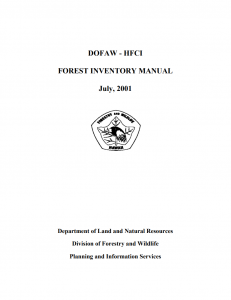 Timber Inventory Publications and Best Management Practices: Timber surveys and reports, and Best Management Practices for forest management and water quality.