Legacy Land Conservation Program
Legacy Land Conservation Program
The application period for grants from the FY2024 Land Conservation Fund is now open.
After a completed FY2024 grant application is reviewed by the Legacy Land Conservation Commission, and approved by the Board of Land & Natural Resources and the Governor, a successful applicant can expect that grant funds will be available for expenditure not earlier than September 2025.
Please visit the "How to Apply" page for future updates and details about the application process. UPDATED SEPTEMBER 25, 2023
Funding to acquire land and protect valuable resources for public benefit

Despite the regulation of land use and development in Hawai'i, lands that hold important resource values are often unprotected, inaccessible, and threatened with damage and destruction.
The Legacy Land Conservation Program provides grants to community organizations and government agencies that strive to purchase and protect land that shelters exceptional, unique, threatened, and endangered resources.
About the Legacy Land Conservation Program
The State of Hawai'i dedicates a portion of its annual revenue from real estate conveyance taxes to the Land Conservation Fund.  Each year the State Legislature provides the Legacy Land Conservation Program with some of the money held in the Fund.  The Legacy Land Conservation Program distributes this money through a competitive grants process for purchasing land and conservation easements that protect the following resources: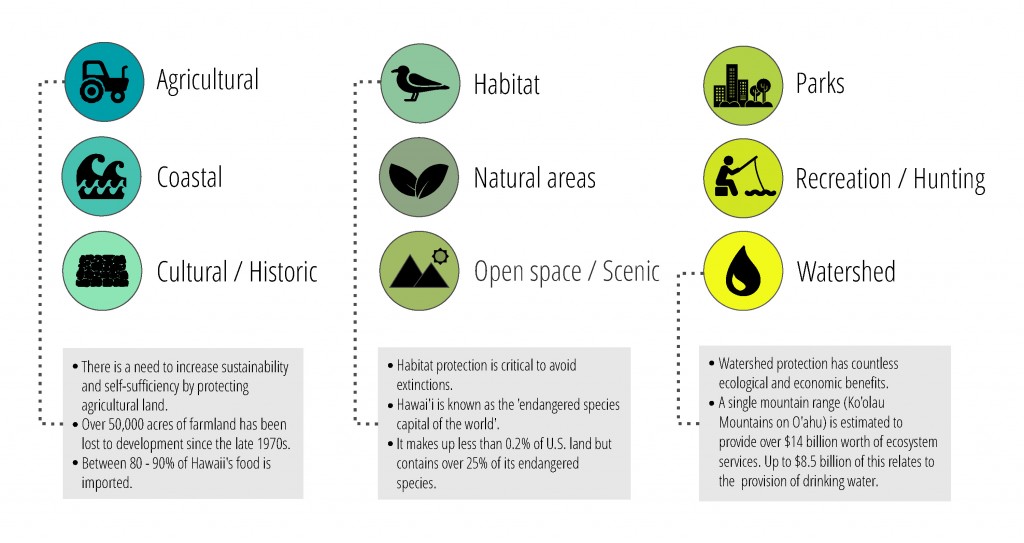 State agencies, counties, and nonprofit land conservation organizations may apply for grants from the Land Conservation Fund.  County and nonprofit awardees must provide matching funds that cover at least 25% of total transaction costs.
A grant award from the Land Conservation Fund is subject to several levels of approval, the availability of funds, and  budget restrictions and procedures implemented under the Governor's Executive Biennium Budget Instructions.
House Resolution No. 20, Thirtieth Legislature, Recognizing the 15th Anniversary of the Legacy Land Conservation Program
State Capitol Ag Day Flyer 2020
State Capitol Ag Day Flyer, 2019
Hawaii Conservation Conference Poster, 2018–Helping to Build Future Stewardship Commitments
World Wetlands Day Flyer, 2018