Education
The Division of Forestry and Wildlife (DOFAW) supports environmental education as a tool to foster awareness and appreciation of our unique natural resources. We provide the resources below in order to help you learn or to help you teach others about what makes Hawai'i Hawai'i.
2020 Wahi Pana Essay Contest
The 'āina of Hawai'i has changed dramatically since the first Earth Day 50 years ago, and it changes with each generation.  For the 50th anniversary of International Earth Day, April 22nd, 2020, DLNR/DOFAW challenged Hawai'i high school students to interview someone they know over the age of 50 about a place they both share, a wahi pana.  Eighty-one essays from across the state were judged by a volunteer team of conservation and education experts, scoring essays from students on their islands.  Sixteen were chosen for publication, representing five islands and many ecosystems.  Mahalo to all students and elders for sharing their na'auao about wahi pana, cherished by many.
Read the winning essays on our Wahi Pana page.
Student Resources
Crafts and activities involving Hawai'i's native species and environment ~ create while learning about our 'āina. Click on the link below to find activities, coloring in, finger puppets and more!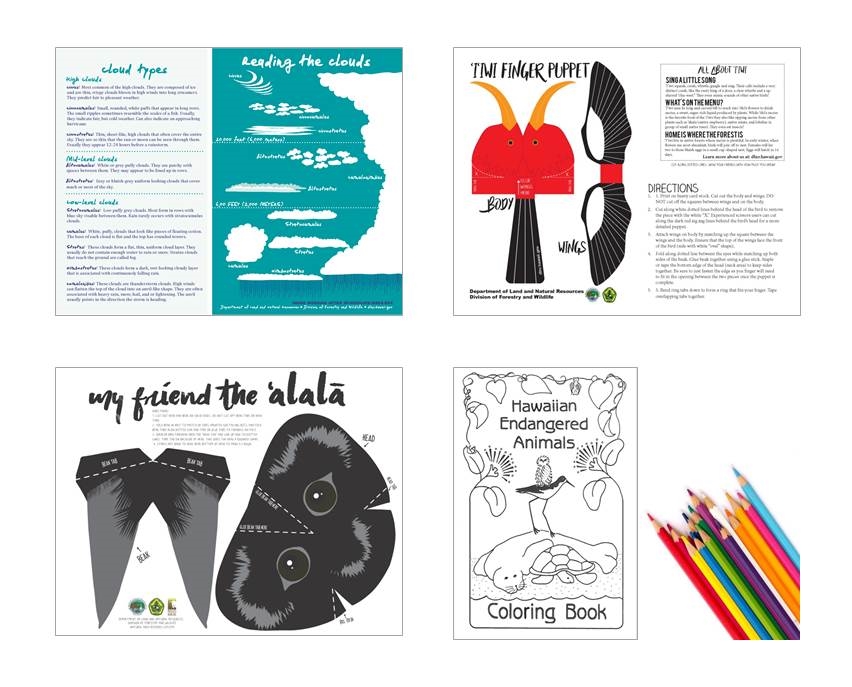 Teacher Resources
Classroom Posters
Posters about Hawai'i's environment, available FREE to educators from our offices. Click on the link below for our full selection of posters and more information.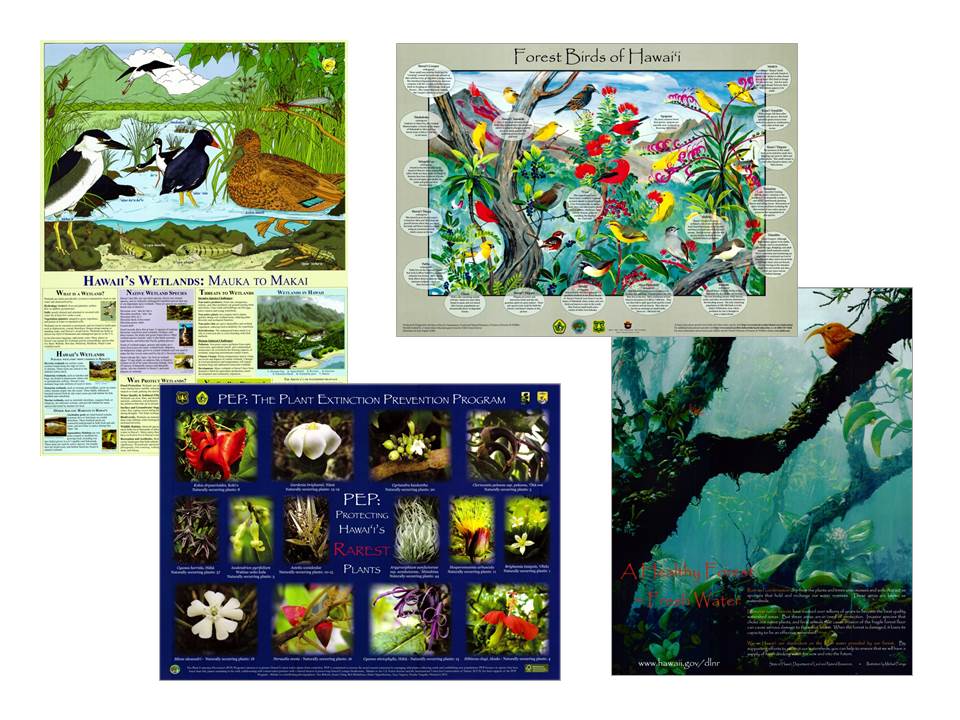 Curricula and Programs
The Division of Forestry and Wildlife is grateful to everyone working to inspire and empower the next generation of leaders.  There are a number of tools that are available to support you in addition to staff that may have the capacity to provide professional development, presentations, and interpretive support. Below are a few place-based curricula available for educators – both traditional and non-traditional.
 Project Learning Tree Hawaiʻi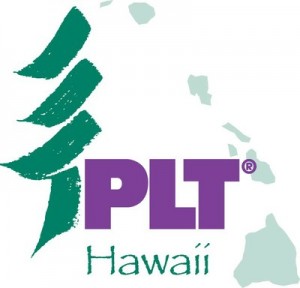 DOFAW and the Hawaiʻi Environmental Education Alliance serve as the coordinating agency and fiscal agent for the national Project Learning Tree (PLT) program in Hawaiʻi. Workshops are offered on all islands for FREE with support from our wonderful team of volunteer facilitators, and require a minimum of six participants to host. For more information please visit the Project Learning Tree Hawai'i page. General information can be found on the National Project Learning Tree page. 
Conservation Leaders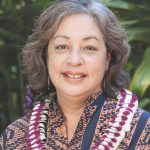 We acknowledge the role that our conservation kupuna have played in forwarding conservation throughout Hawai'i. To learn more, click here.
Hōʻike o Haleakala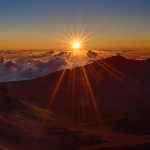 Hōʻike o Haleakala is a downloadable curriculum for High School that was developed for Maui, but is adaptable for all islands. For more information, please visit their website.

Hawai'i Environmental Education Alliance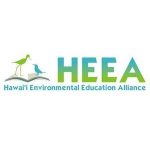 In the event you need additional support, the Hawaiʻi Environmental Education Alliance lists over 100 organizations as well as grant opportunities and contests that may be able to support your environmental education needs.
Forms
When planning to work with DOFAW, please utilize the Media Release Waiver and the Volunteer Waiver whenever appropriate.