Hawai'i Forest Stewardship Program
Providing technical & financial assistance to Hawai'i's forest stewards since 1991
He ali'i ka 'aina; he kauwa ke kanaka – The land is a chief; man is its servant

Overview
Hawai'i's Forest Stewardship Program (FSP), administered by the Department of Land and Natural Resources, Division of Forestry and Wildlife (DLNR-DOFAW), provides technical and financial assistance on a cost-share basis to private forest landowners to promote the stewardship, enhancement, conservation, and restoration of Hawaii's forests.
Management Objectives
Examples of forest management objectives supported by FSP include:
Forest Stewardship management plan development
Timber and/or forest product production
Native forest conservation and/or restoration
Agroforestry (the forestry component only)
Fire pre-suppression
Watershed, riparian, and/or wetland protection and improvement
Forest recreation enhancement
Native wildlife habitat enhancement
Eligibility
Landowners with at least 5 contiguous acres of forested (or formerly forested) land who intend to actively manage and enhance at least 5 acres of their forest resources are eligible. Individuals, joint owners, private groups, associations, lease or license holders, or corporations are eligible.
How to Participate
Interested landowners are asked to submit a project proposal to DLNR-DOFAW for review by the Forest Stewardship Advisory Committee (FSAC). Those with accepted proposals will be invited to write and submit a full management plan that must cover a period of 10 years for review by the FSAC. 
Due to limited state funding and numerous applicants, the FSAC will rank and prioritize approved management plans that are eligible to receive state funding. The FSAC will provide their recommendations on funding priorities to DLNR-DOFAW for approval.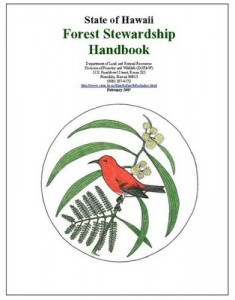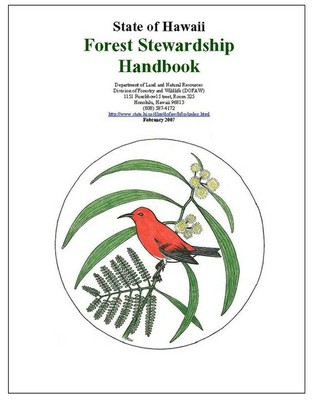 For more information on the program and how to participate, please refer to the Forest Stewardship Handbook. The handbook includes procedures for application, proposal and management plan content, forestry practices, cost-share rates, and more.
The implementation of the Forest Stewardship Program is governed by Hawai'i Administrative Rules Chapter 109.
---
For more information, please contact:
Division of Forestry and Wildlife
(808) 587-4177
Contact via Email