Hawaiʻi Project Learning Tree: Educator Professional Development
Hawaiʻi Project Learning Tree: Educator Professional Development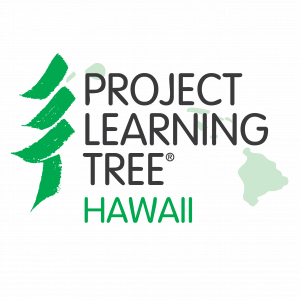 Educators looking for a creative, multi-disciplinary environmental education program are invited to participate in Project Learning Tree Workshops offered by the Department of Land and Natural Resources (DLNR) Division of Forestry and Wildlife (DOFAW)  with support from the  US Forest Service,  the Sustainable Forestry Initiative, the national Project Learning Tree office and many partners across the state.
Project Learning Tree is an award-winning, multi-disciplinary environmental education program.  It is easy to infuse the environmental lessons into other subject areas such as math, language arts, and social studies.  PLT activities can be adapted to various audiences: Pre-K – 12 students, Scout troops, special education classes, community groups and many more. Schools can also register to be a PLT GreenSchool here and request a PLT GreenSchool workshop.
Upcoming Workshops
Hawaiʻi educators! Register for FREE, online professional development opportunities for environmental education. Our Project Learning Tree Program has four workshops occurring over Fall Break:

10/10/23, 9-10am: Sensational Trees workshop (grades K-2): Activities that invite young learners to investigate trees using their five senses.
10/10/23, 10:30-11:30am: Biodiversity Blitz workshop (grades 3-5):  Activities that invite young learners to investigate the variety of species in an ecosystem, and how this variety – or biodiversity – helps sustain life on Earth.
10/11/23, 8:30-10am OR 6-7:30pm: Nature of Fire (grades 6-8): Activities that invite students to investigate wildland fire and ecosystem change.
Curriculum Inventory
Curriculum Name

Grade Level/ Years

Inventory

PD hours

Aligned to

PD and E-guide

Printed materials

Environmental Experiences for Early childhood*

3-6 yrs

35

NAEYC HSCOF

29.99

$29.99

K-2

17

3 hrs

NGSS, CCSS

C3, BSCS 53

39.99

N/A

3-5

20

3 hrs

NGSS, CCSS

C3, BSCS

39.99

N/A

6-8

20

3 hrs

NGSS, CCSS C3, BSCS

39.99

N/A

Prek – 8 online PD and ebook

K-8

67

4 hrs

NGSS

CCSS

k-12

20

6 hrs

$24.99

$34.99

12-25 yrs

1.5 hrs

NGSS

29.99

24.99
Professional Development Structure:
Workshops are offered as a three-part virtual PD training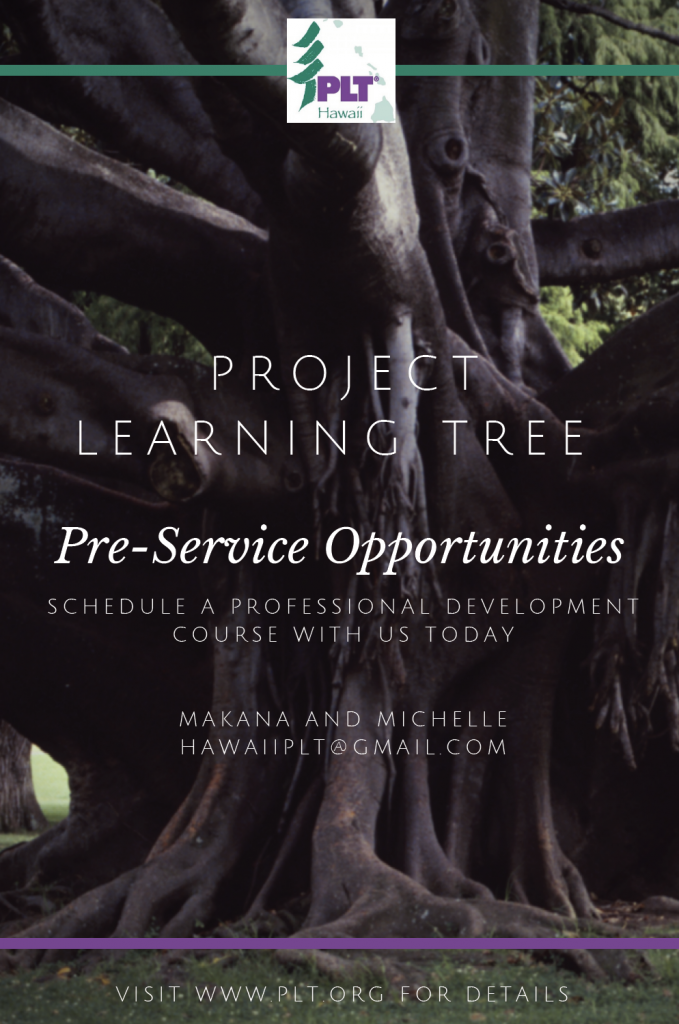 Part 1: Synchronous webinar: Welcome, introductions, and homework
Part 2: Self-paced online course
Part 3: Synchronous webinar: Virtual field experience and Evaluation (45 minutes)
Each Pre-Service course includes 2 classroom virtual visits with a recommended space of 2-4 weeks.
First Visit: Welcome to Hawaii PLT!  1-1.5 hours
Introductions
About our state program
Local Resources
Visit from a non-formal educator (i.e. talk story, presentation, or virtual field trip from a field biologist, forester, natural resource scientist, wildland fire fighter, etc.)
Homework Assignment and set groups
Email any homework Questions to [email protected]
Acronym List:
* Notes a Teachers Choice Award
NAEYC: National Association for the Education of Young Children (NAEYC) Standards
HSCOF: Head Start Child Outcomes Framework.
NGSS: Materials are constructed around – rather than simply correlated to – targeted performance expectations of the Next Generation Science Standards. They build on one another to foster students' understanding and skills for meeting the specific standards.
CCSS: Materials are aligned with the Common Core State Standards for English Language Arts and Math.
C3: Materials are aligned with the College, Career, and Civic Life (C3) Framework for Social Studies
BSCS: are organized around the Biological Sciences Curriculum Study (BSCS) 5E Instructional Model – engage, explore, explain, elaborate, and evaluate.
Become a Hawai'i Project Learning Tree Facilitator
If you would like to become a Hawai'i PLT facilitator, please contact us via email: [email protected].  PLT facilitators will receive FREE curriculum, help with advertising the workshops, training, as well as become part of a national network of environmental education leaders with access to great resources and support. 
Contact:
Michelle Gorham or Makana Kaha'ulelio via email at [email protected]
 MK – (808)255-5149