Wildland Urban Interface Grants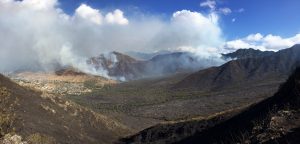 USDA Forest Service funds to mitigate risk from wildland fire within the Wildland Urban Interface (WUI) are available and awarded annually through a competitive process with emphasis on:
hazard fuel reduction in the WUI;
information and education;
assessment and planning; and
monitoring through community and landowner action.
Projects that DO NOT qualify include suppression capacity building, such as the purchase of fire department equipment. Applications must describe how the project connects with the goals of the Hawaii Forest Action Plan and a Community Wildfire Protection Plan. See 2020 WUI Grant Criteria and Instructions for more information.
Draft applications for 2020 were accepted by the Division of Forestry and Wildlife (DOFAW) until August 16, 2019. Email questions in regards to the 2021 application period to DOFAW.