Forest Carbon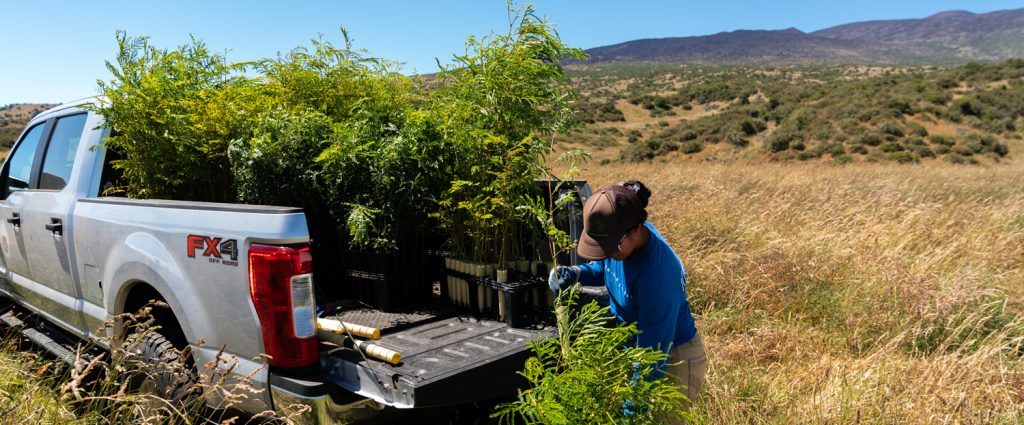 Tree planting at Puʻu Mali. PC: Shibby Stylee LLC
What are Forest Carbon Projects?
Forest carbon projects withdraw the greenhouse gas carbon dioxide (CO2) from the atmosphere and store it in trees and other biomass to mitigate for global climate change. Forests sequester CO2 in larger quantities and for longer periods of time than many other land uses. Converting agricultural, developed, or degraded land to forest can increase the amount of carbon stored. An independent carbon standard commonly verifies and certifies forest carbon projects and issues a carbon credit for every additional metric ton of CO2 stored through the project.
Carbon storage or sequestration (the long-term storage of atmospheric carbon dioxide) is one of the many vital goods and services provided by Hawai'i's ecosystems. Examples of other ecosystem services are freshwater purification and replenishment, soil protection, biodiversity protection, recreational experiences, etc.
Benefits of Forest Carbon Projects

Reduce Greenhouse Gas Emissions – The trees and other plants store carbon CO2 in the long term.
Plants and Wildlife – Protect species unique to Hawaiʻi.
Social/Culture – The Hawaiian culture is deeply rooted to the land and it's natural resources.
Freshwater – Maximize water capture and storage.
Coral Reefs – Reduce erosion that muddies coastal areas.
Green Jobs – Connect residents with the land that sustains them.
Partnering for Hawai'i's Natural Resources
The Division of Forestry and Wildlife (DOFAW) is responsible for managing over 670,000 acres of land designated as Forest Reserve. DOFAW has collaborative experience with working alongside the private sector to protect and enhance important forested mauka lands.  Forest carbon projects offer a variety of opportunities to contribute Hawai'i's unique and indispensable natural resources:
Offsetting carbon emissions through the acquisition of independently certified carbon offset credits.
Partnering for targeted wildlife habitat restoration projects.
Offering customers the opportunity to contribute – financially or through volunteer work.
Partnering in youth education programs and much more.
DLNR's Forest Carbon Projects
Puʻu Mali Forest Carbon Project
Kahikinui/Nakula Forest Carbon Project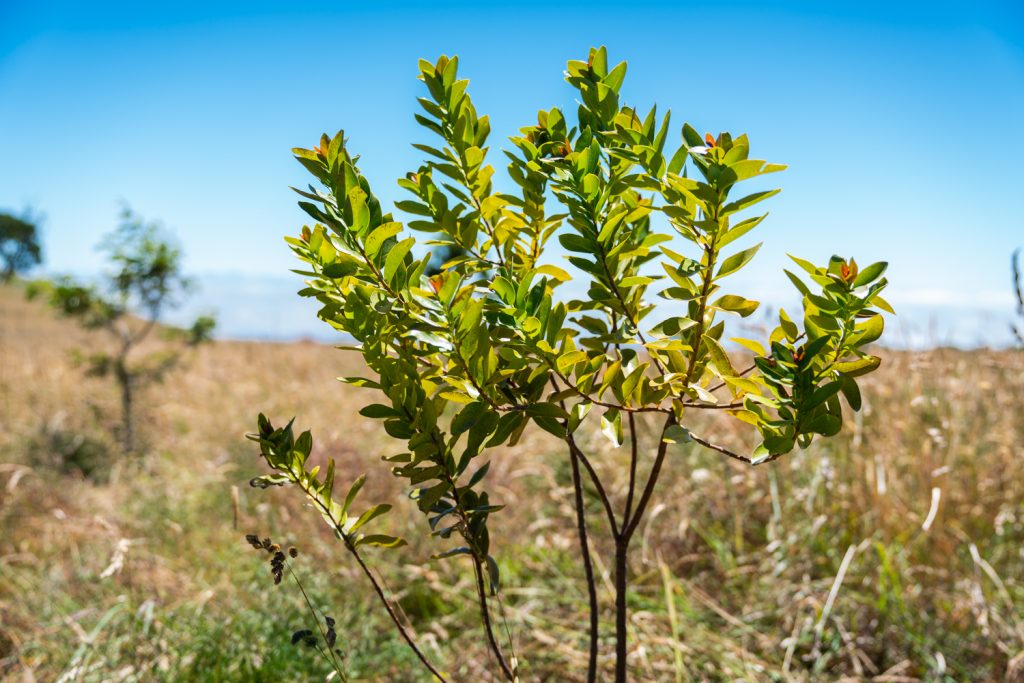 A tree planted at Puʻu Mali. PC: Shibby Stylee LLC