Nā Ala Hele: Trails & Access
Nā Ala Hele: Trails & Access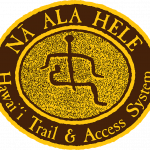 Nā Ala Hele is the State of Hawai'i Trail and Access Program, created to manage public resources related to hiking. The program manages trail access and conducts trail maintenance in order to provide important public services including recreational opportunities, experiences related to cultural history and historic trails, and economic opportunities where possible for commercial trail vendors. Nā Ala Hele trails are also important for access into natural areas for management, research, hunting, and wildfire response.
If you're preparing for a hike and looking for use and access information on a specific trail, we host that information on the mobile app Outerspatial and or in your web browser at the interactive Hawaiʻi Trails portal. The Hawaiʻi Trails portal also includes information for commercial trail vendors. The pages on this site provide additional resources, including statewide hiking safety and behavioral guidelines, and program information. 
We also host information by island, including downloadable maps for offline use as well as educational content to let you explore trails from home.
The Nā Ala Hele program includes trails and access opportunities for other opportunities beyond hiking. Some trails can be used for equestrian riding, and others can be used for off-highway vehicles like motor bikes. Nā Ala Hele also manages historic and ancient trails.
Users interested in the Nā Ala Hele program can read the 1991 Nā Ala Hele program plan or contact Nā Ala Hele program staff.
Hike Safely
Before You Go:
Get Information: Prepare your hiking route. Maps and directions are available through this website. If using a trail not shown on this site or map links, or want more information, contact us.
Inform others: Tell someone of your hiking plans including the trail name, location, and your estimated time of return.
Assess your capabilities: Be aware of your physical limitations, skills, and energy levels.
Check the weather forecast for the day: If a storm is forecasted, consider hiking on another day – or select trails in dryer areas.
Carry a small pack with water: with some basic first aid materials, energy snacks, cell phone, and plastic garbage bag (for either collecting rubbish or to use as a rain gear).
Wear sturdy and comfortable shoes with good traction: This will make the hike fun for everyone, and improve your hiking skill and safety.
When You Are Out There:
ALWAYS STAY ON SIGNED AND MANAGED TRAILS! Trails and access roads on this site are maintained and designated for public use. Hiking and leaving a maintained trail is dangerous (i.e., hiking on adjacent ridgelines, gulches, or cliff climbing etc.).
Pay attention: to posted warning and management signs.
If the direction of the trail looks confusing: go back and start over.
Do not hike alone: consider hiking with a group of people.
Keep track of time: by allowing sufficient time to return before dark.
Resources: