Halele'a Forest Reserve
Halele'a is Kaua'i's first forest reserve, and was established by Governor's Proclamation in 1905 for the purpose of forest and watershed protection. The forest reserve currently consists of approximately 15,000 acres of public land.
Halele'a Forest Reserve Management Plan (September 2010)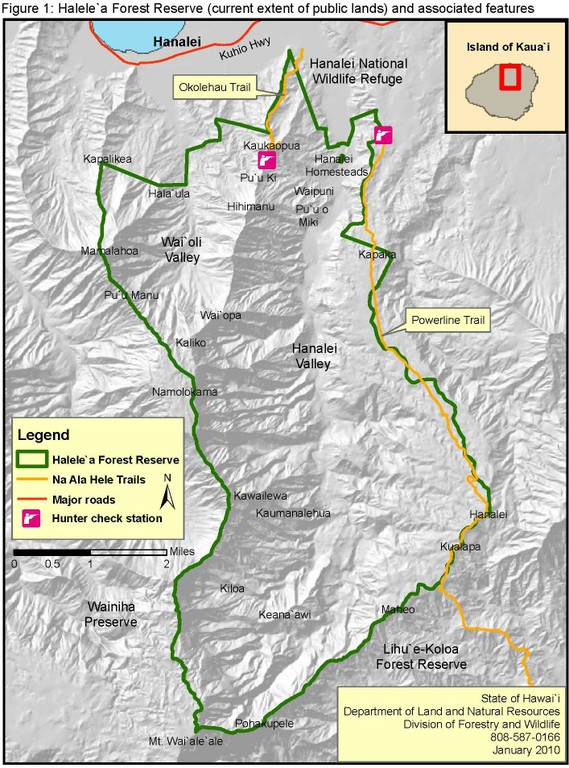 The area is characterized by deep, wide valleys, abundant streams, and heavy rainfall. In addition to its rich biological and cultural resources, Hanalei Valley provides many downstream users with an abundant source of water.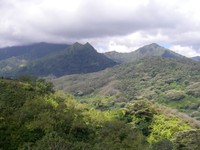 DOFAW's current management objectives for Halele'a Forest Reserve include management of Okolehau Trail, monitoring invasive plants/animals, enhancement of native rare plant resources, maintenance of Pritchardia exclosure(s), and management of the pig hunt.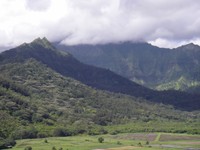 Halele'a Forest Reserve can be reached from Kapaka Street or 'Ōhiki Road (off Kuhio Highway). Minimal parking is available at both locations. Na Ala Hele, the State of Hawai'i Trail and Access Program, manages two trails at Halele'a Forest Reserve; Powerline Trail and Okolehau Trail. Hiking on undesignated trails is not recommended due to the potential for natural hazards.