Nā Pali Kona Forest Reserve
Nā Pali Kona Forest Reserve
Nā Pali-Kona Forest Reserve is located in the central to northwest areas of the island of Kaua'i, in the Districts of Waimea and Hanalei. The Reserve was established by Governor's Proclamation on June 12, 1907; with the primary objective of forest protection; the area was perceived to have few other uses and the accompanying protection of the water supply to adjacent agricultural lands was viewed as having "tremendous value." Nā Pali and Kona are the names of the two ancient districts or moku'āina in which the Forest Reserve land lies. Nā Pali-Kona Forest Reserve consists of approximately 23,019 acres.
Nā Pali-Kona Forest Reserve Management Plan (November 2009)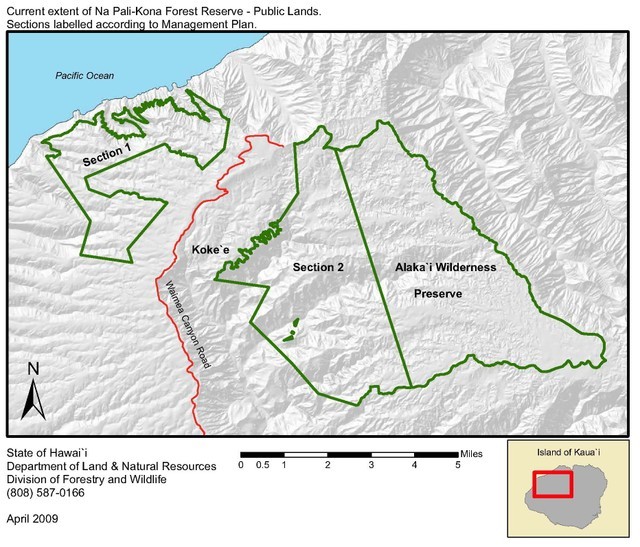 Kaua'i has higher rates of species endemism than other Hawaiian Islands and Nā Pali-Kona Forest Reserve contains an excellent representation of important ecosystems. Especially distinctive is Hawai'i's only Wilderness Preserve, the Alaka'i Wilderness Preserve. This area contains the greatest proportion of intact ecosystems on Kaua'i; it is an extreme environment that is arguably the wettest on Earth.

DOFAW's current principle objective for the management of Nā Pali-Kona Forest Reserve is to maintain Highest Quality Native Ecosystems habitat for threatened, endangered, and rare plants and animals and the associated healthy watershed.

No major roads lead directly into Nā Pali-Kona Forest Reserve, although there is access from minor roads off Waimea Canyon Drive, which is paved. For access to Section 1, Mākaha Ridge Road passes through the reserve, providing access to Miloli'i Ridge Road, a portion of which is in the Nā Pali-Kona Forest Reserve. Four-wheel drive access to Section 2 of the reserve can be reached using Mōhihi-Camp 10 Road.