Pu'u ka Pele Forest Reserve
Pu'u ka Pele Forest Reserve
Pu'u ka Pele Forest Reserve is located on the west side of the island of Kaua'i in the District of Waimea. The area was of interest to the Territorial Government dating back to the early nineteenth century. The primary reasons for its addition to the Forest Reserve System were to retain its wild scenic beauty as well as to reduce erosion and damage of the steep cliffs by controlling ungulate populations. The Pu'u ka Pele Forest Reserve presently consists of approximately 23,600 acres.
Pu'u Ka Pele Forest Reserve Management Plan (November 2009)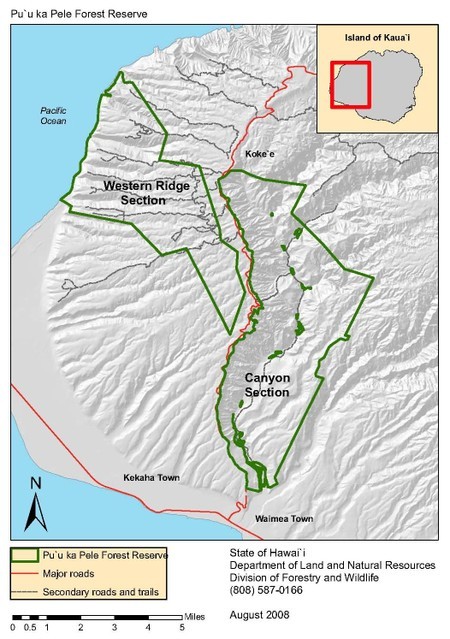 Pu'u ka Pele Forest Reserve is a multi-use area which provides some of the best public hunting opportunities on the island of Kaua'i, and early reforestation efforts in the Pu'u ka Pele area resulted in the establishment of plantations comprised of experimental non-native and native tree species, as well as proven commercial timber species.
Pu'u ka Pele Forest Reserve is managed for native species conservation, recreational hunting, forestry, and other recreational activities.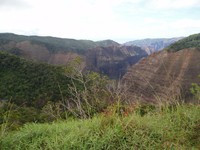 DOFAW's current principal objectives for the area are:
to manage the lands for sustainable game hunting opportunities,
provide native and non-native timber resources for commercial and non-commercial use,
manage existing rare native biological resources, and
maintain existing infrastructure.
Pu'u ka Pele Forest Reserve is one of the most accessible Forest Reserves on the island. A network of roads, trails, and landing zones has been established and is currently maintained for public use, staff access, firebreaks, and safety. Vehicular access to the to the Western Ridge Section of Pu'u ka Pele Forest Reserve is available via paved highways on Waimea Canyon Drive or via Kōke'e Road. Access to the southwest portion of the Western Ridge Section can be achieved via Polihale Road. Access to the Canyon Section of Pu'u ka Pele Forest Reserve can be achieved via Menehune Road and a 4-wheel drive road near the 600-foot elevation contour accesses the lower reaches of the Forest Reserve at the canyon bottom.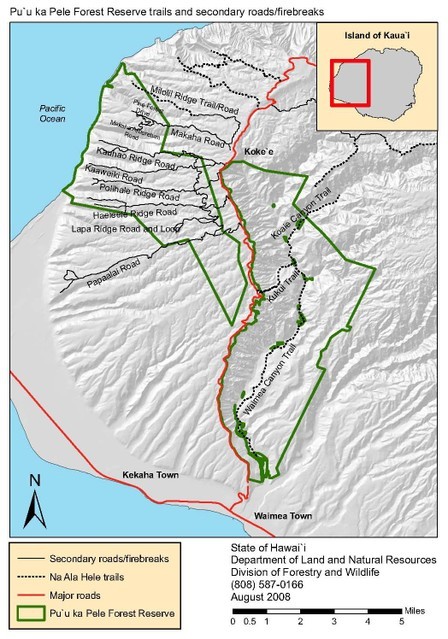 Trail information can be found at Na Ala Hele website