Moloka'i Forest Reserve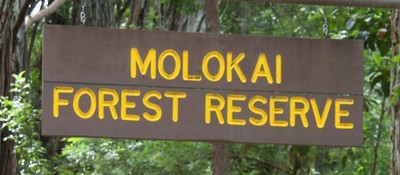 The Moloka'i Forest Reserve was established by Governor's Proclamation in 1912 to protect and permanently maintain mountain forests to ensure the continued regular stream flow and water resources. The Reserve is spread across east Moloka'i and is currently comprised of several non-contiguous areas totaling 11,690 acres of public land.
Moloka'i Forest Reserve Management Plan (November 2009)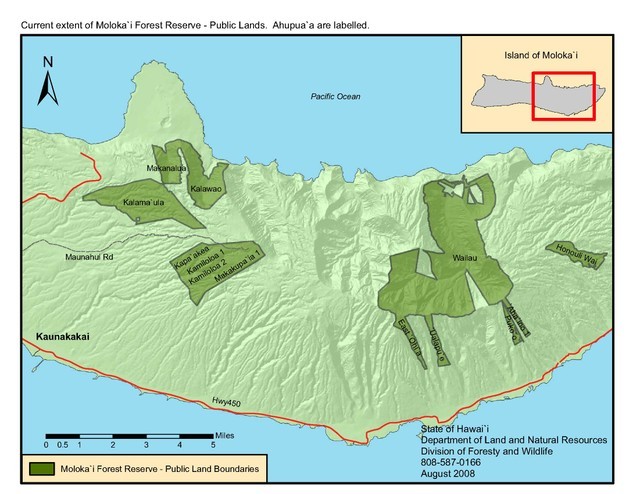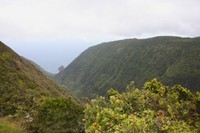 Moloka'i Forest Reserve's ecosystems and terrain vary widely between the different areas of the reserve. The western sections are generally drier and more accessible, while eastern sections are generally wetter, more mountainous, and contain higher quality native ecosystems. Several exotic timber plantations exist in western sections of the Reserve. Infrastructure consists primarily of Na Ala Hele trails, rough roads, and a picnic area with a basic campsite. Public hunting (birds and mammals) is allowed in Moloka'i Forest Reserve.

DOFAW's current principle objectives for the management of Moloka'i Forest Reserve focus around:
maintaining a healthy watershed;
protecting forest resources from fire, insects, and disease; and
maintaining habitat for threatened, endangered, and rare plants and animals.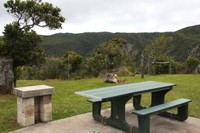 Public access is available to the western portion of the Moloka'i Forest Reserve. All other sections of the reserve are in remote and steep areas that have little or no road or trail access. The forest reserve is accessible from Highway 460 to the 4WD Maunahui Road (Moloka'i Forest Reserve Road) about 3.5 miles northwest of Kaunakai. Stretches of road/trails that lie within the Forest Reserve boundaries are only periodically maintained, therefore vehicular access may be difficult.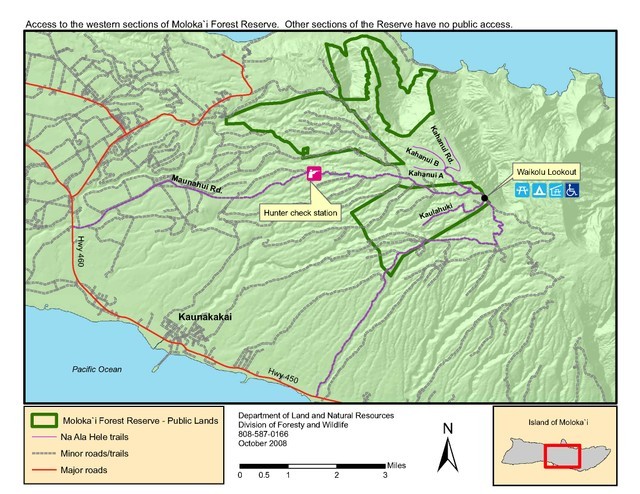 Trail information can be found at Na Ala Hele website.