Ka'ena Point Stewardship Area
Ka'ena Point Stewardship Area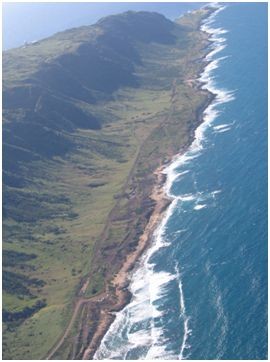 Ka'ena Point is one of the last few remaining and easily accessible wilderness areas on O'ahu and is now at risk as a result. Due do its unique mixture of wilderness landscapes and ocean resources, the conflicting cultural, recreational, and environmental interests at Ka'ena are particularly intense, and now require an improved method to resolve these diverse interests. With respect to the positions and specific interests of the various groups, there now must be earnest collaboration to achieve a balance of use between these disparate interests to improve the management of the area and reduce the mounting impacts to both land and sea. Thank you for your interest and commitment of valuable time to assist DLNR in this dialogue and in realizing the goals of balanced access and stewardship.
DLNR Seeks Public Input on Management Actions for Ka'ena Point Stewardship Area
Proposed Designated Roads and Parking Areas (Nov 2011)
The public is invited to view:
Hawai'i Revised Statutes for DLNR lands by land classification:
1970s State Park Conceptual Plan broken up by chapter:
Descriptions of State Park nomenclature categories from 1965 and 2003:
User poll results from the Hawai'i Tourism Authority study:
The Hawai'i State Ocean Resource Management Plan (ORMP) was updated in 2007. The ORMP made one fundamental recommendation based upon overwhelming agreement across all user groups across the entire state: Government and resource users must address the fact that activities on the land have direct impacts on the ocean environment, and therefore regulators and community groups must work across jurisdictions on land and ocean to successfully protect ocean resources. As the former Director of the Office of Planning, Laura Thielen worked closely with OHA and many groups to finalize and publish the 2007 ORMP. When she became Chairperson of DLNR she asked the divisions to assist with implementation of the plan. DLNR has focused on four stewardship areas to work across divisional lines within our department to protect the ocean and land resources. Ka'ena Point is the O'ahu site selected by DLNR. In 2008, the Ka'ena Point Stewardship team drafted a plan for the area with a focus on the north shore of Ka'ena Point. The draft stewardship plan is the staff's attempt to look holistically at Ka'ena Point – the resources, the uses, the impacts – rather than through the seven different lenses of seven separate divisions with responsibility for different portions of the area.

The Department of Land and Natural Resources (DLNR) is now seeking public input on management actions it plans to implement in the Ka'ena Point Stewardship Area. The plan represents a unified management approach to protecting the historical, cultural, and biological integrity of the north coast of Ka'ena Point. Each of the divisions participating in this integrated resource stewardship effort has recognized the commonality of our values and has agreed to utilize a cooperative approach in managing this area.
Land Division (LD) – Steve Molmen
Division of State Parks (SP) – Dan Quinn, Eric Kato, and Holly McEldowney
Division of Aquatic Resources (DAR) – David Nichols
Division of Forestry and Wildlife (DOFAW) – Randy Kennedy, Brent Liesemeyer, Talbert Takahama, Betsy Gagne, Ati Jeffers-Fabro, Yumi Miyata and Marigold Zoll
State Historic Preservation Division (SHPD) – Coochie Cayan
Division of Boating and Ocean Recreation (DOBOR) – Paul Sensano
Division of Conservation and Resources Enforcement (DOCARE) – Guy Chang and Tom Tanaka
The Department also recognizes the importance of community input and participation in managing this sensitive area and has formed a Ka'ena Point Advisory Group composed of the following members:
North Shore Neighborhood Board – Jeff Alameida
Wai'anae Neighborhood Board – Jo Jordan
Camp Erdman – Josh Heimowitz
Friends of Ka'ena Point – Vicky Lyman
Oahu Burial Council – Leimaile Quitevas
Office of Hawaiian Affairs – Keola Lindsey
Fishermen –Sandra Park (delegate)
Cultural Practitioners – William Aila (delegate); Thomas Shirai (alternate)
Conservationists – Jennifer Metz (delegate); Cynthia Rezentes (alternate)
The advisory group will be making recommendations to DLNR regarding the Ka'ena Point plan. The DLNR Ka'ena Point Stewardship team will be working with the advisory group, but will not be members of the group. DLNR did not select the representatives for the advisory group, but rather went to the heads of the various organizations, such as Chairs of the Neighborhood Boards, and asked them to select the representative, and held a public meeting at which different interest groups could self-select their representative for the individual interest groups.
The advisory group's purpose is to engage in constructive discussion to find a balance between the various interests and user groups and to advise DLNR on preferred management solutions for Ka'ena Point. We expect this process will take approximately six months. The advisory group and DLNR staff will work together on plan revisions, the representatives will be obtaining input from their user groups to bring back to the table, and they may bring differing proposals to the Chairperson for evaluation. In the end, we hope to have a plan or blueprint that will be adopted by the Land Board.
Advisory Group Meeting Schedule
—
Past Meetings
The first meeting of the advisory group was held at the DLNR board room at 1151 Punchbowl Street Honolulu, Hawai'i 96813 on April 14, 2009 from 6:30 pm to 8:30 pm. At that meeting we discussed the mission, objectives, and organizational structure of the group. This first meeting was open to advisory group and DLNR stewardship group members only. At that meeting, DLNR and the Advisory Group agreed to do some homework.
Comments may be made directly via email.