Kapāpala Canoe Forest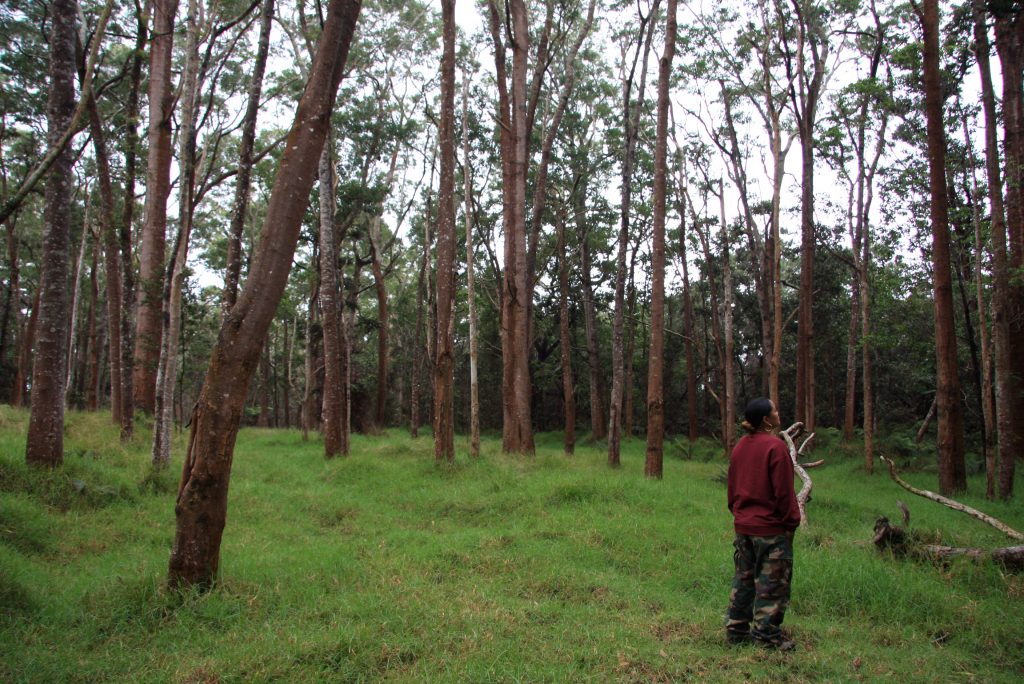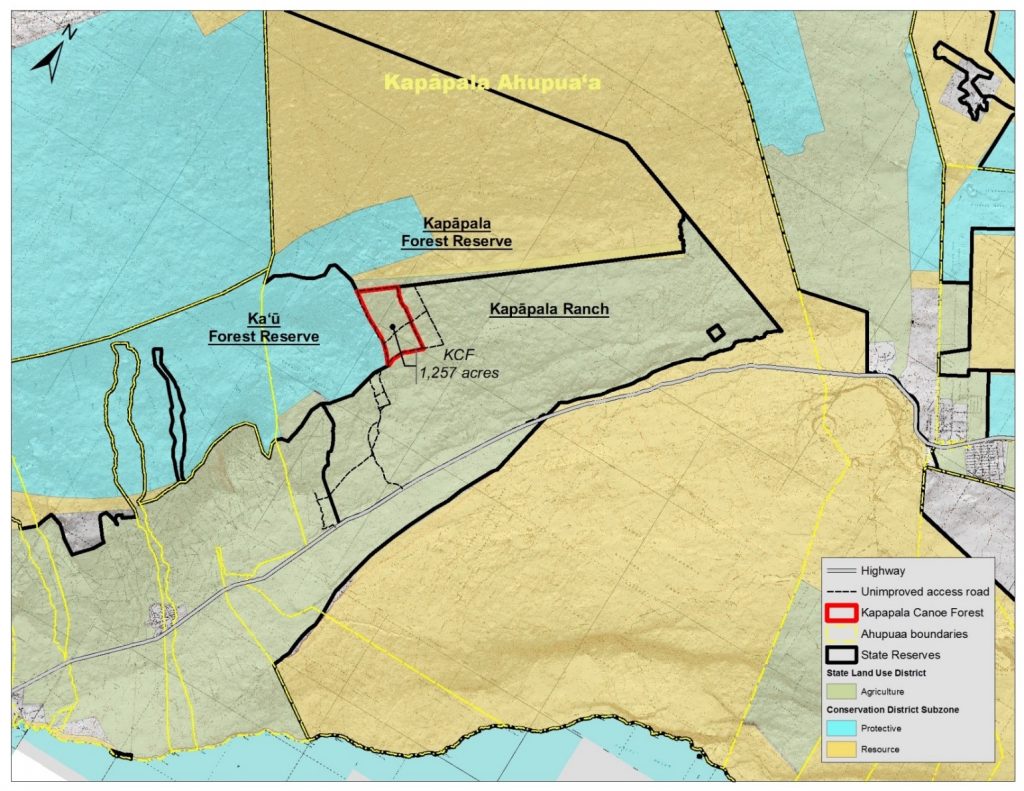 The Kapāpala Canoe Forest (KCF) is a 1,257 acre remnant koa forest located in Kaʻū Forest Reserve on the southeastern slopes of Mauna Loa on the island of Hawaiʻi. In 1989, the Department of Land and Natural Resources (DLNR) set aside this unique native forest in response to a significant decline in koa trees due to past commercial harvesting and ranching activities.  The primary purpose of the Kapāpala Canoe Forest is a source for koa canoe logs in perpetuity, on a sustainable and self-sustaining basis.  The canoe forest also serves as a learning center and community gathering place for traditional Hawaiian practices, and an example of balancing forest use and regeneration.
At an elevation ranging from 3,640 to 5,100 feet above sea level, the KCF is located in what the Hawaiian culture considers as the wao akua or "forest of the gods".  Today, the Kapāpala Canoe Forest is stewarded by multiple partners and the local community, utilizing ancient Hawaiian land management practices to sustainably manage one of the best remaining koa forests in Hawaii.
Kapāpala Canoe Forest Partners & Working Group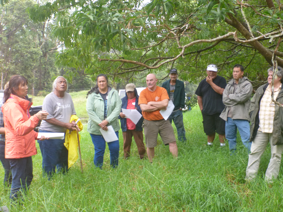 The KCF is managed by a number of partners including DOFAW, Three Mountain Alliance, and the Kapāpala Canoe Forest working group. The working group is comprised of key stakeholders including canoe clubs, Kaʻū Kūpuna, cultural practitioners, canoe builders, conservationists, and adjacent landowners; all covened to provide direction and guide decisions on the management of KCF and the sustainable use of its natural and cultural resources.

The working group meeting minutes can be accessed by clicking their following link below:
09-18-2015 Kapāpala Working Group Meeting Minutes
01-09-2016 Kapāpala Working Group Meeting Minutes
07-31-2016 Kapāpala Working Group Meeting Minutes
11-05-2016 Kapāpala Working Group Meeting Minutes
Grant Funding
In 2012, DLNR Division of Forestry and Wildlife's Forest Stewardship Program was awarded federal funding from a competitive grant for the Kapāpala Canoe Forest.  A final report was made in November 2016, highlighting the KCF's met goals/accomplishments, problems encountered, plan changes, and grant expenditures.
The final report can be viewed by clicking on the link below:
November 2016 Final Report for the Kapāpala Koa Canoe Forest
Educational Opportunities
The Kapāpala Canoe Forest have provided an accessible "living" classroom for the local youth and community. The Three Mountain Alliance (TMA) has completed several service trips under their 'Imi Pono no ka 'Āina ('Imi Pono) Program.  Student volunteers participating in this program  learn a variety of lessons ranging from seed collection, native species identification, forestry management, and the significance of koa and native plants to cultural practitioners.
In mid-2014, the Three Mountain Alliance prepared a youth educational plan for the Kapāpala Canoe Forest which serves as a stewardship plan for the area to be implemented by volunteers.
Click on the link below to access this educational plan:
Kapāpala Koa Canoe Forest Youth Education Plan