Hawai'i State Big Tree Competition
We are excited to announce the Hawai'i Big Tree Competition is expanding to include a State Big Tree Registry that is giving an opportunity for more tree species to enter the competition. We are now accepting nominations for many more tree species that are native, endemic, and culturally valuable to the people of Hawai'i.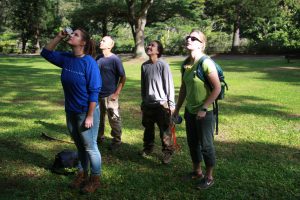 The Hawai'i State Big Tree Competition seeks to find the biggest tree species throughout the islands of Hawai'i to promote and preserve our native and culturally valuable tree species. Many of these tree species cannot be found anywhere else in the world! Thus far, we have had nominations from a variety of individuals, from foresters to entomologists, to Big Tree Hunters. Mahalo to those of you who have joined the fun! Tree-huggers, nature lovers, and people of all backgrounds are encouraged to get involved. You don't have to be an arborist or work in a nursery to nominate a tree. You could be anybody, and if you see a tree and think, "Wow! That's the biggest (fill in the blank of tree species*) I've ever seen!", you should nominate it! This program can help people learn more about the surrounding environment so that when they are out hiking, or even just walking around town, they can connect with the life around them. Rather than walking past a "tree", you walk past a loulu tree, and you think about how amazing it is that this species evolved in Hawai'i, and Hawai'i only. Or you look at the hala tree and think about how cute it is that Hawaiian children used to use parts of it for love spells, and how amazing it is that early Hawaiians could make so much use of something that can be so overlooked in today's world. Learning about our unique trees develops one's sense of place, and appreciation for where we live.   
We ultimately want to find the biggest of the big trees, but we also want to see peoples' stories. Does the tree have a special meaning to you? Has the tree been standing for a long time? Has it seen something interesting in history?  Was it your Grandma's favorite kind of tree? Whatever your story is, or whatever the tree's story is, we want to hear it.
Can you find the next Big Tree Champion? 
---
January 2018: An ʻOhe makai is crowned our very first State Big Tree Champion! Mahalo to Montana big tree hunter, Mark Lewing for the nomination and encouragement. Mahalo to Waimea Valley Conservation Manager, Laurent Pool for your enthusiasm and support. 
Hawaii's 12 Tree Species Eligible to be a State Big Tree Champion
| Common Tree Name | Hawaiian Tree Name | Genus & Species |
| --- | --- | --- |
| Ohe | ʻOhe makai | Polyscias sandwicensis |
| Ohia | 'Ōhiʻa lehua | Metrosideros polymorpha |
| Sandalwood | 'Iliahi | Santalum paniculatum |
| Screwpine | Hala | Pandanus tectorius |
| Kou | Kou | Cordia subcordata |
| Pacific rosewood | Milo | Thespesia populnea |
| Kamani | Kamani | Calophyllum inophyllum |
| Hāpuʻu | Hāpuʻu | Cibotium glaucum |
| Breadfruit tree | Ulu | Artocarpus altilis |
| Alaheʻe | Alaheʻe | Psydrax odorata |
| Hala pepe | Hala pepe | Chrysodracon forbesii |
| Loulu | Loulu | Pritchardia hillebrandii |
The Champion Big trees are measured based on a point system designed by American Forests using their height, circumference, and crown spread. Please also see the Hawaii Big Tree Program page for more information on the National competition and the tree species listed there. Don't see the tree you want to nominate listed? Contact us to discuss the possibility of adding it to the list!
Nominate a Tree
To nominate a tree, fill out the Nomination form and email it to the Hawai'i Big Tree Coordinator at Kristin.Arakawa@hawaii.gov. For instructions on how to measure a tree, see our Tree Measurement Activity Guide. If you cannot acquire a clinometer, include a photo of the tree with someone standing at the base of the tree for scale.