Citizen Forester Program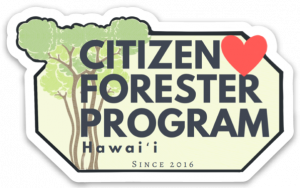 The award-winning Citizen Forester Program is a collaborative project that educates, trains, certifies, and supports community members to become forestry leaders in their communities.
The Citizen Forester Program educates community members as volunteer citizen scientists to map urban trees and add to your community's tree inventory while raising awareness on the importance of caring for trees where we live. The program was piloted in 2016 in the town of Kailua on Oahu and has now expanded to many other communities across the state!
---
Why Map Trees?
An urban tree inventory was identified as one of the top strategies in the Urban Forestry
Section of Hawaii's Forest Action Plan. There is no formal inventory of trees currently being used in Hawai'i, which can hinder efforts to manage, maintain, replace trees, and plan for disasters in the urban forest. 
The Citizen Forester Program supports community volunteers to collect urban tree inventory data. 
Our inventory directly aids in city planning, environmental impact and public health assessments while increasing community awareness of the benefits of trees.  We also assess areas where trees are needed the most and work to increase green infrastructure.
With an accurate inventory we are able to save time and taxpayers dollars when managing our urban forest!
---
Voices for our Trees

Another key strategy in Hawaii's Forest Action Plan (FAP) is improving the public perception of the value and benefits of urban trees. It may surprise you, but urban trees don't have the best reputation with everyone in the community! More-so, urban trees are often overlooked. The Citizen Forester Program looks to address this by engaging communities and reminding the public that trees are important. The Citizen Foresters are truly the voices for our urban forests.
Check out all the Benefits of Trees! 
---
Data Usage
T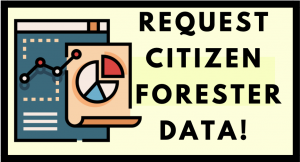 he tree inventory data is freely available to the public for non-commercial uses upon request.
As part of our program, volunteers collect location data, specific tree measurements, and tree condition assessments for trees in the city's right of way. Our inventory is stored on the Tree PlotterTM platform, which calculates the estimated eco-benefits for the recorded trees.
To request a copy of the detailed tree inventory data please fill out our online form: 
Citizen Forester Program Data Request Form
Download a copy of our Data Sharing Policy:
Citizen Forester Program Inventory Data Sharing Policy (PDF,109 KB)
---
Why You Should Join
Flexible Time Commitments
Receive Citizen Science Certification
Meet other like-minded Tree Lovers
Educate the Community about the Important Role of Trees in their Neighborhood
Gain Experience working with State and City Forestry Agencies
Gain Important Forestry Skills:

Species Identification
How to Assess Tree Health
How to Assess Site Condition
How to Navigate Forestry Data and Tree Inventory Database

Make a Difference in your Community!
---
Enroll Today!
Please fill out enrollment form. Trainings are held several times a year, sign up below to be added to the training series waiting list.
TREE RELATED INQUIRIES
911 – Tree emergency (fallen tree or branch)
911 – Malicious tree damage or removal
(808) 971-7151 – Street trees- tree pruning, planting, or removal
(808) 971-7151 – Tree donations
(808) 768-8159  – Sidewalk uplift and unauthorized plantings
(808) 543-7836 – Tree interfering with voltage lines/powerlines
(808) 379-7555 – Manu O Ku Bird Hotline
For a full list of contact information organized by tree inquiry, CLICK HERE for (PDF)
This is a collaborative project of federal, state, non-profit, and city partners, including: Smart Trees Pacific, the State and Private Forestry branch of the U.S.D.A. Forest Service, Region 5; the Kaulunani Urban and Community Forestry Program of the DLNR Division of Forestry and Wildlife; and the Urban Forestry Division of the City and County of Honolulu.
We're grateful for invaluable in-kind support from several community partners including: The Outdoor Circle, the Aloha Arborist Association, the UHM Campus Inventory and Landscape Mapping Project, private landscape architect firms, and independent environmental educators.