Tree City USA and Tree Campus Program
Tree City USA and Tree Campus Program

Tree City USA is a national program from the Arbor Day Foundation in cooperation with the US Forest Service and the National Association of State Foresters. The program has been greening cities and towns across the United States since 1976.
Statistics for Tree City USA Program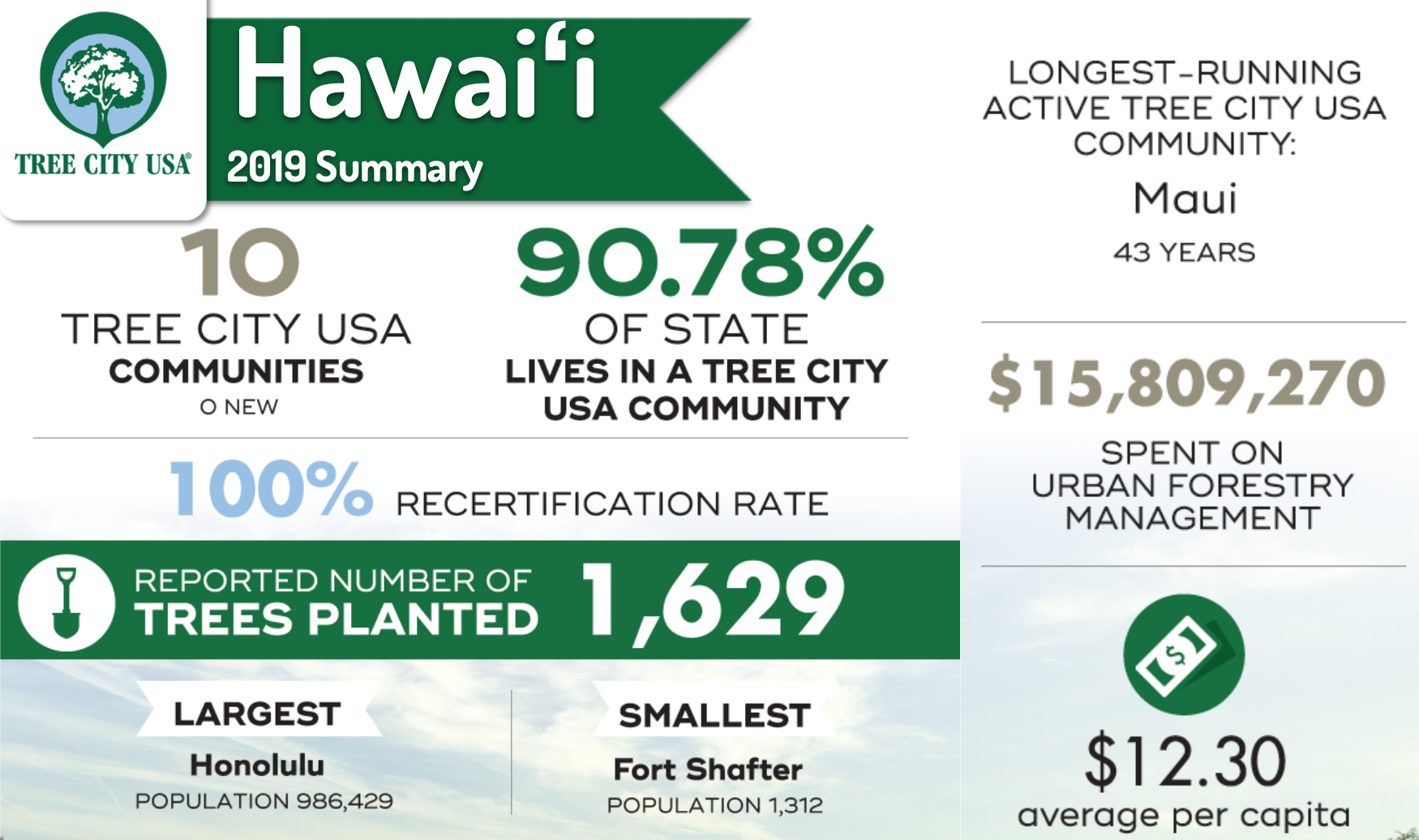 Tree City Communities
The state of Hawaiʻi has been proudly participating in the program since the first year with our first community, Maui joining in 1976. Today, Hawaiʻi boosts ten Tree City USAs. We continue to grow and are happy to welcome new communities each year. The program provides the framework necessary for communities to manage and expand their public trees. 
Maui, 1976
Maui is our longest running Tree City USA community. 
---
City and County of Honolulu, 1980
---
Joint Base Pearl Harbor/Hickam

, 1998
---
 Schofield Barracks, 2008
---
 Aliamanu Military Reservation, 2011
---
 Helemano Military Reservation, 2011
---
 Fort Shafter, 2011
---
 Wheeler Army Airfield, 2011
---
 Mililani Town, 2018
---
 Ohana Military Communities, Navy 2018
Ohana Military Communities, MCBH 2020
---
Tree Campus Communities
The Tree Campus Higher Education program is also from the Arbor Day Foundation and allows colleges and universities join the national program! This program helps them establish and sustain healthy community forests. Tree Campus are required to meet the same standards as Tree City USA communities with an additional Service Learning Project aimed at engaging the student body. 
University of Hawaiʻi at Mānoa, 2008
---
Windward Community College, 2019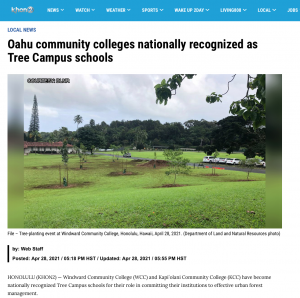 Kapiʻolani Community College, 2019

Does your community have what it takes to become a Tree City USA? 
Tree City USA cities are required to establish:
(1) a Tree Board or Department,
(2) a Community Tree Ordinance,
(3) a Community Forestry Program with a minimum of at least $2USD per capita, and
(4) an Arbor Day Observance and Proclamation.
Applications are due each December 31st. Learn more on Arbor Day Foundation's website.