State Land Board Approves Carbon Credits Initiative
State Land Board Approves Carbon Credits Initiative
Posted on Jan 31, 2017
DEPARTMENT OF LAND AND NATURAL RESOURCES
News Release
DAVID Y. IGE
GOVERNOR

SUZANNE D. CASE
CHAIRPERSON
For Immediate News Release January 30, 2017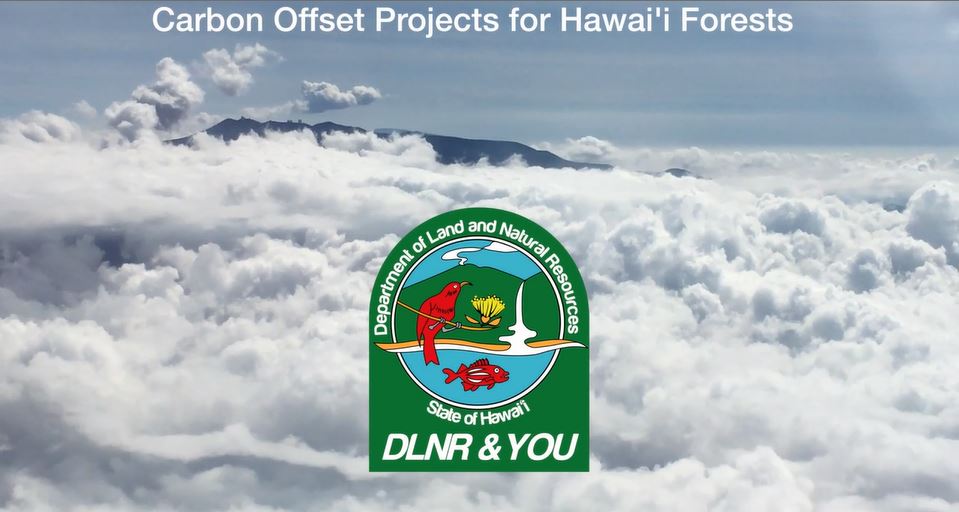 (click on image to watch video)
STATE LAND BOARD APPROVES CARBON CREDITS INITIATIVE
Growing Trees will Provide Opportunity for Purchase of Credits
HONOLULU – If you drive a car, fly in a plane, use air-conditioning to cool your home, or engage in other activity powered by fossil fuels that emit greenhouse gas, you may soon have new ways to offset your emissions locally, by supporting Hawaiian forest restoration.
On Friday, Jan. 27, 2017, the State Board of Land and Natural Resources (BLNR) approved Hawai'i's first ever carbon offset project in State forests. DLNR and its Division of Forestry and Wildlife (DOFAW) will now issue a request for proposals for private entities to create a carbon forestry project in the Pu'u Mali Restoration Area in the Mauna Kea Forest Reserve on Hawai'i island.
BLNR and DLNR Chair Suzanne Case explained, "Creating new ways to fund restoration of Pu'u Mali and other State forests is a win-win for the public, foresters, and our watersheds."
DLNR is also in the process of creating a carbon offset pilot project on southern Maui, where carbon credits will be sold directly by the State to buyers.
The Kahikinui State Forest Reserve (SFR) and the adjacent Nākula Natural Area Reserve (NAR), high on the south slopes of Maui's Haleakala, are steep, generally dry, and windswept. Over the course of many decades, uncontrolled grazing by introduced invasive hooved animals, like goats and cattle, virtually destroyed the native koa and ʻōhiʻa forest in this area. This has caused serious erosion, loss of native habitat for endangered plants and animals, increased wildfire threats, and reduced watershed function.
DOFAW Administrator David Smith explained, "Ultimately this will give individuals, organizations, and companies the opportunity to purchase credits directly from the State to offset their greenhouse gas emissions, which cause global warming. Trees and forests store carbon, so the way we remove it from the atmosphere is by planting more trees." The carbon offset pilot project is proposed for funding from the Hawai'i State Legislature.
Philipp LaHaela Walter, DOFAW's Resource and Survey Forester said, "Both the Pu'u Mali and Maui carbon forestry projects will help implement Governor Ige's Sustainable Hawaii Initiative and the Aloha+ Challenge, by mitigating climate change, restoring forest and native species, and enhancing watersheds."
The Leeward Haleakala Watershed Restoration Partnership, a voluntary watershed protection alliance of 11 public and private landowners encompassing 43,000 contiguous acres, has led forest restoration at Kahikinui and Nākula to date. Over the last three years DOFAW and its partners have constructed more than 7 miles of ungulate proof fencing, removed 700 invasive animals, and planted 45,500 native plant seedlings in the Kahikinui SFR and 71,000 trees in the Nākula NAR.
On a recent visit to Kahikinui SFR, Maui-based DOFAW forester Lance DeSilva had a gleam in his eye as he surveyed young koa trees, that six months ago were barely a foot tall and now have grown to 4 to 5 feet.  DeSilva said, "From the last time I came out here, you could barely see the seedlings that our crew had planted. Ample rain has helped. It's very promising. It's a feel-good moment to see this. It's really nice."
Volunteers and staff have primarily planted koa along with māmane, ʿaʿaliʿi, pilo, ʻōhiʻa, ʻōlapa and other native understory plants. It's all in an effort, as DeSilva explained, "to return Kahikinui back to its native condition, which started with fencing, invasive animal removal, and planting native plants. The goal is to one day have this functioning as a fully intact and productive watershed.  Eventually we'd like to look at reintroducing some of the native birds here, but first the habitat for them has to recover."
Smith pointed to the many benefits of both the Big Island and Maui restoration and carbon offset projects, saying, "We and our partners look forward to converting degraded pastureland or forests back to native forest, to store carbon, reduce erosion, increase water supply recharge, re-establish endangered species habitat, mitigate wildfire threats, and support many other natural and cultural benefits."
# # #
Media Contact:
Dan Dennison
Senior Communications Manager
(808) 587-0407
[email protected]
[email protected]