Manuka
Acres: 25,550
Established: 1983
TMK: 8-9-6-1 (1509.575), 8-9-6-2 (585.963), 8-9-6-17 (890), 9-1-1-2 (7968.884), 9-1-1-3 (14678.8), 9-1-1-6 (216), 9-1-1-7 (765)
On the flank of leeward Mauna Loa in South Kona, Manuka encompasses a wide range of habitats. These include subalpine shrublands and forests, mesic montane kipuka forests, wet montane forests, lowland mesic forests and lowland dry forests.
Recent lava flows add a variety of pioneer vegetation types, as well as uncharacterized and unsurveyed lava tubes. Concentrations of the Hawaiian hoary bat occur in the area. A rare lowland grassland and anchialine pools are included as well.
Natural Communities: 17 total, 3 rare
Native Plants: 187 total taxa, 10 rare
Native Animals: 7 total taxa, 3 rare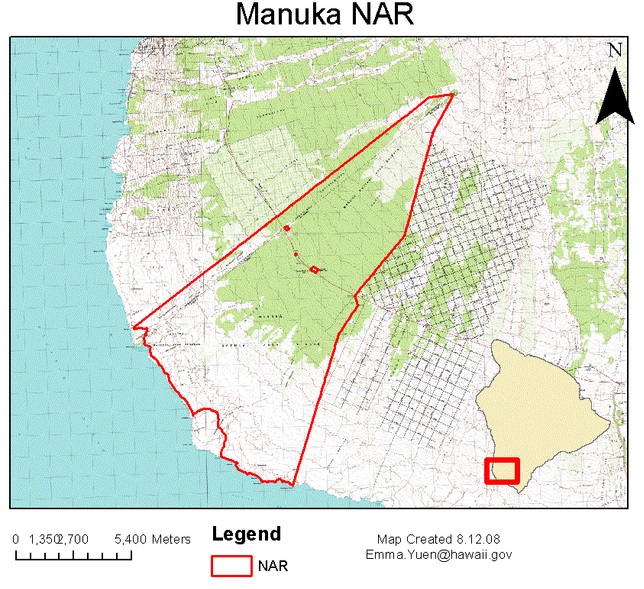 Click here for a larger version of this map.
Resources:
Manuka is within the Three Mountain Alliance (TMA). Please click here to read the TMA management plan which includes plans for Manuka.