For Hunting Forms & Information please click on link ! 
We appreciate your patience and understanding, during this COVID-19 pandemic!
---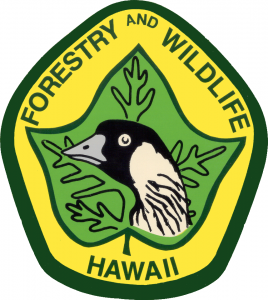 Due to the COVID-19 pandemic, the Division of Forestry and Wildlife (DOFAW) offices will be TEMPORARILY CLOSED to the public until further notice. For any questions or concerns, please call our office at 808-274-3433.  
If there are any additional questions or concerns, please feel free to fill out a form at the bottom of this page or leave a message at our office. Mahalo!
---
E KOMO MAI KAUAʻI FOREST USERS
TO YOUR #1 RESOURCE FOR STATE FORESTS ON KAUAʻI
Here you can learn about the DLNR Division of Forestry and Wildlife's (DOFAW) current and proposed Kauaʻi projects.  Hikers, Hunters, cultural practitioners, and other visitors are the eyes and ears of the forest and can greatly inform where the DOFAW should focus its limited resources.
On the interactive map below, click on any number of map layers, or overlay them on top of each other to learn more about trails, hunting areas, shelters, as well as potential new projects or changes in the future. Many of the new projects or changes take funds that we don't yet have and/or time to accomplish. After using the below Story Map and reading more in this website, please give us your manaʻo by emailing us at [email protected].
---
---
Learn more about ongoing and proposed projects in your region of Kauaʻi
---
Kauai Forest Reserve User Survey
The mission of DLNR's Division of Forestry and Wildlife is to responsibly manage and protect watersheds, native ecosystems, and cultural resources and provide outdoor recreation and sustainable forest products opportunities, while facilitating partnerships, community involvement, and education. 
Your response and opinions matter to us and we appreciate you taking the time to provide your feedback. Your feedback will help us better understand who uses the reserve, motivations for using the reserve, perceptions about the quality of the reserve, and preferences for future improvements for the community.