Legacy Land Conservation Commission
About the Legacy Land Conservation Commission (Updated May 3, 2019)
The Legacy Land Conservation Commission is a nine-member State commission created by Act 254, Session Laws of Hawai`i 2006, to advise the Board of Land and Natural Resources on projects proposed for funding under Chapter 173A, Hawai`i Revised Statutes (Acquisition of Resource Value Lands).  Guided by the statutory priorities of Section 173A-2.6, the Commission conducts a grant application process, public review of applications,  and decision making with staff support from the Legacy Land Conservation Program, Division of Forestry and Wildlife.
NEW COMMISSIONERS APPOINTED!
On April 18, 2019, the State Senate confirmed Governor Ige's four nominees for new terms on the Legacy Land Conservation Commission.  We welcome new Commissioners BERYL BLAICH (Kaua`i) and CHRISTIANE LUCAS (O`ahu), returning Commissioner JOHN SINTON (O`ahu, former selectee from the Natural Area Reserves System Commission), and reappointed Commissioner JACOB TAVARES (Maui).
Commissioners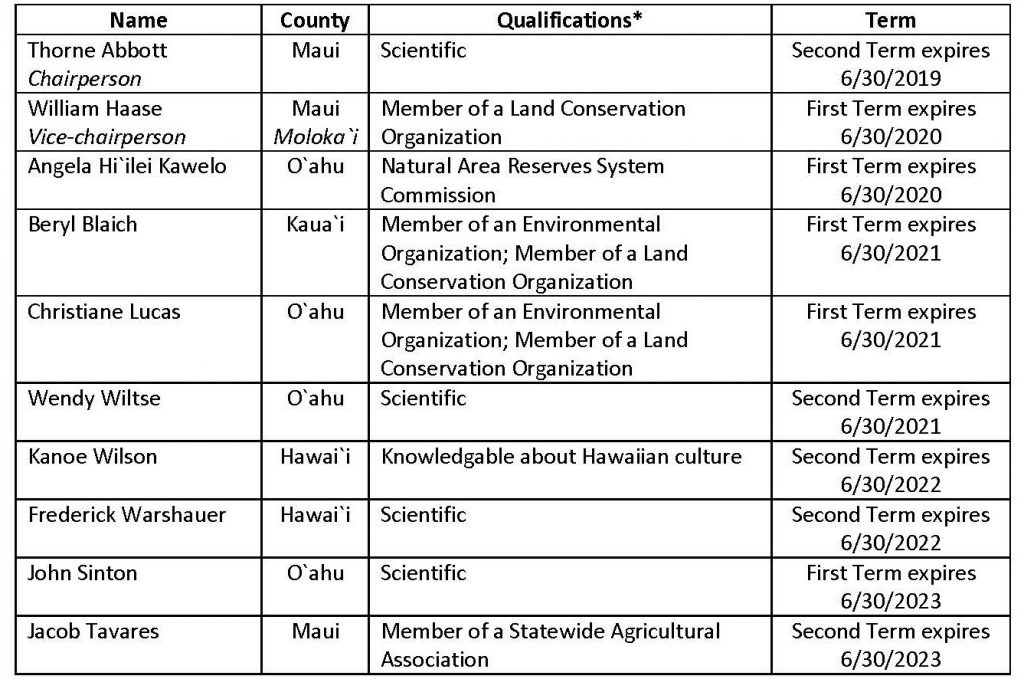 *See Section 173A-2.4, Hawai`i Revised Statutes
Documents & Links
State Office of Information Practices guidance on Sunshine Law ("Open Meetings Law")
Governing authorities for the Legacy Land Conservation Commission:
Meeting Agendas & Minutes
2019
September 4-6, 2019: Agenda 69 ||
September 4, 2019: Agenda 68 ||
July 30, 2019: Agenda 67  ||
July 30, 2019: Agenda 66  ||
June 25, 2019:  Agenda 65  ||
April 22, 2019: Agenda 64 ||
2018
December 10-11, 2018: Agenda 63 || Minutes
December 10, 2018: Agenda 62 || Minutes
October 12, 2018: Agenda 61 || Minutes
October 12, 2018: Agenda 60 || Minutes
May 2018: Agenda 59 || Minutes
2017
December 7-8, 2017: Agenda 58 || Minutes
December 7, 2017: Agenda 57 || Minutes
October 5, 2017: Agenda 56 || Minutes
May 8, 2017: Agenda 55 || Minutes
2016
December 12-13, 2016: Agenda 54 || Minutes
December 12, 2016: Agenda 53 || Minutes
October 21, 2016: Agenda || Minutes
February 29, 2016: Agenda || Minutes
2015
December 3, 2015: Agenda || Minutes
December 2, 2015: Agenda || Minutes
October 13, 2015: Agenda || Minutes
August 18, 2015:  Agenda || Minutes
March 31, 2015: Agenda || Minutes
2014
December 5, 2014:  Agenda ||  Minutes
December 4, 2014:  Agenda ||  Minutes
October 13, 2014:  Agenda ||  Minutes
April 16, 2014:  Agenda  ||  Minutes

 2013
December 3, 2013:  Agenda  ||   Minutes
December 2, 2013:  Agenda  ||  Minutes
October 14, 2013:  Agenda  ||  Minutes
May 21, 2013:  Agenda  ||  Minutes
March 7, 2013:  Agenda  ||  Minutes
2012
December 6, 2012:  Agenda  ||  Minutes
December 5, 2012:  Agenda  ||  Minutes
October 17, 2012:  Agenda  ||  Minutes
June 26, 2012:  Agenda  ||  Minutes
April 27, 2012:  Agenda  ||  Minutes
February 24, 2012:  Agenda  ||  Minutes
2011
December 14, 2011:  Agenda  ||  Minutes
December 13, 2011:  Agenda  ||  Minutes
October 27, 2011:  Agenda  ||  Minutes
June 20, 2011:  Agenda  ||  Minutes
April 18, 2011:  Agenda  ||  Minutes
February 10, 2011:  Agenda  ||  Minutes
2010
December 3, 2010:  Agenda  ||  Minutes
December 2, 2010:  Agenda  ||  Minutes
October 13, 2010:  Agenda  ||  Minutes
July 19, 2010:  Agenda  ||  Minutes
May 12, 2010:  Agenda  ||  Minutes
March 29, 2010:  Agenda  ||  Minutes
2009
December 8, 2009:  Agenda  ||  Minutes
December 7, 2009:  Agenda  ||  Minutes
October 14, 2009:  Agenda  ||  Minutes
June 18, 2009:  Agenda  ||  Minutes
April 14, 2009:  Agenda  ||  Minutes
March 12, 2009:  Agenda  ||  Minutes
2008
December 19, 2008:  Agenda  ||  Minutes
December 18, 2008:  Agenda  ||  Minutes
October 14, 2008:  Agenda  ||  Minutes
June 2, 2008:  Agenda  ||  Minutes
February 6, 2008:  Agenda  ||  Minutes
2007
December 14, 2007:  Agenda  ||  Minutes
November 6, 2007:  Agenda  ||  Minutes
September 27, 2007:  Agenda  ||  Minutes
July 6, 2007:  Agenda  ||  Minutes
May 18, 2007:  Agenda  ||  Minutes
May 7, 2007:  Agenda  ||  Minutes