Community Risk Reduction Initiatives
Community Risk Reduction Initiatives
The Department of Land and Natural Resources is statutorily mandated to take measures for the prevention of wildland fires within the Division of Forestry and Wildlife (DOFAW) managed lands and to cooperate with county and federal fire agencies in developing plans and programs for prevention assistance of wildfires on lands not managed by DOFAW.  
DOFAW is involved with and committed to the following community risk reduction initiatives.
Community Wildfire Preparedness Day & Wildfire LOOKOUT! Campaign
The Community Wildfire Preparedness Day in May is the kick-off for the annual unified multi-agency Wildfire LOOKOUT! campaign to raise awareness about the threat of wildfire to Hawaii's natural resources and to private and public property.
Over two dozen state, county, and federal agencies have committed to this effort to educate and inform residents about the threat of wildfires in Hawaii.
Hawaii State Legislature Grant-in-aid (GIA) Program
During the Regular Legislative Session of 2016, the Hawaii State Legislature appropriated $158,000 for an Operating GIA to support wildfire prevention and hazardous fuel reduction measures.
As the expending agency, DOFAW is working with the Hawaii Wildfire Management Organization and other partners to:
–  Create all-agency unified wildfire prevention messaging, related materials, and a public awareness campaign to maximize public protection and preparedness; and
–  Develop cross-boundary fuel reduction priorities, maps, and projects for all four counties in Hawaii.
Comm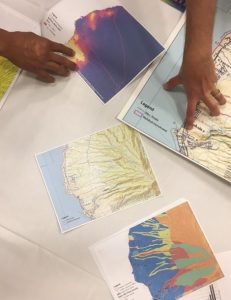 unity Wildfire Protection Plans (CWPP)
CWPPs help communities address wildfire response, hazard mitigation, and community preparedness as well as identify hazard reduction priorities.
Newly established CWPPs have made additional lands eligible for funds available through the Wildland Urban Interface (WUI) Grant Program.
There are 13 CWPPs established throughout the State of Hawaii, which cover over half of the State (see map). Each county has at least one CWPP.
 
Wildland Urban Interface (WUI) Grant Program
U.S. Forest Service funds to mitigate risk from wildland fire within the WUI are available and awarded annually through a competitive process with emphasis on:
–  hazardous fuel reduction in the WUI;
–  information and education; and
–  planning.
In Hawaii, funding is delivered through DOFAW to communities, organizations, and agencies to implement WUI risk reduction projects. 
Community Wildfire Defense Grant Program
The FY 2022 Community Wildfire Defense Grant (CWDG) program is open for applications. The BipartisanInfrastructure Law provided $1 billion over five years for the CWDG program to provide grants to at-risk communities to develop or revise a Community Wildfire Protection Plan (CWPP) or implement projects in a CWPP that is less than ten years old. 
CWDG prioritizes at-risk communities that are in an area identified as having high or very high wildfire hazard potential, are low-income, and/or have been impacted by a severe disaster. The program is anchored in the three goals of the National Cohesive Wildland Fire Management Strategy:
Restore and Maintain Landscapes: Landscapes across all jurisdictions are resilient to fire-related disturbances, in accordance with management objectives.
Create Fire Adapted Communities: Human populations and infrastructure can withstand a wildfire without loss of life and property.
Improve Wildfire Response: All jurisdictions participate in making and implementing safe, effective, efficient risk-based wildfire management decisions.
The Notice of Funding Opportunity (NOFO) is open until October 7, 2022.  Applicants should contact Michael Walker at [email protected]  for more information. Additional information on this program, including the fiscal year 2022 NOFO, application, and other resources, can be found at: 
Firewise USA is a voluntary mitigation program that encourages residents to work with neighbors to protect their homes from wildfire.
There are 11 Firewise USA recognized communities throughout the State (see map). Hawaii's first community was recognized by Firewise in 2004, and 10 more communities have gained recognition since 2015.
As the Firewise State Liaison, DOFAW is required to review and approve Firewise USA applications.  DOFAW is seeking input from partners and residents on potential communities that may be interested in becoming a Firewise USA recognized community.
DOFAW Fire Management Information