Educator Resources

DLNR DOFAW and our partners have a number of resources available for both formal and informal educators. Below please find curricula, teachers' guides, activities, and information on books and posters available to you.
Professional Development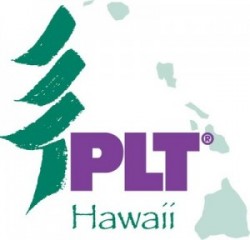 Educators looking for a creative, multi-disciplinary environmental education program are invited to participate in Project Learning Tree Workshops. Project Learning Tree is an award-winning, multi-disciplinary environmental education program.  It is easy to infuse the environmental lessons into other subject areas such as math, language arts, and social studies.  PLT activities can be adapted to various audiences: Pre-K – 12 students, Scout troops, special education classes, community groups and many more. Schools can also register to be a PLT GreenSchool and request a PLT GreenSchool workshop.
Connect with Forestry & Wildlife: Classroom Presentations and Service Trips
At the Division of Forestry & Wildlife, we want to connect with you in order to help you connect with nature. If you manage a classroom or other organizational group, you can contact our education and outreach specialists to request a presentation. Our classroom presentations are offered both virtually and in person, when possible. If your classroom or group is interested in a service learning trip, you can fill out our Service Trip Request Form. Connect with us to request a presentation or service trip. Department of Education teachers can also schedule events with us through the ClimbHI.org education portal.
Place-based Curricula
Project Aloha 'Āina:  The Moanalua Gardens Foundation (MGF) developed this curriculum for 4th grade students. While some of the curriculum is specific to the Moanalua ahupua'a, this curriculum can serve as an example for educators looking to design content for their area.
Hōʻike o Haleakalā:  Hōʻike o Haleakalā is a multi-disciplinary, science-based environmental education curriculum designed to help sustain the native Hawaiian landscape and culture by helping students establish and deepen connections to the land and the culture it supports. The Hōʻike curriculum supports State of Hawaiʻi high school educational standards, particularly in the science disciplines. Each activity is correlated to state science standards, offering educators a way to fulfill educational requirements using local ecosystems and issues as a context. These materials help bring science home for students while fostering a strong science background and critical-thinking skills. Hōʻike o Haleakalā is a downloadable curriculum for High School. Although it uses specific examples from Maui, many can be easily adapted for other islands.
Hawaiʻi Prevents Wildfire: The Hawaiʻi Wildfire Management Organization (HWMO) has developed a set of activity books to teach students about wildfire in Hawaiʻi and ways to be firewise. Educators can download materials from the HWMO website or request paper copies using the the order form at the following link: https://forms.gle/HA38zC6KaF7HfGGX9. Materials include: 
Keiki coloring sheets (2 sheets) for preschoolers
Grade K-2 activity books
Grade 3-6 activity books
Coloring placemats
Classroom posters
Teachers' Guides
A Teacher's Guide To Nēnē- Our Endangered State Bird:  This resource provides teachers with the necessary background information to connect 4th and 5th grade students to learning more our state bird, the nēnē. Teachers can use this guide to engage student in learning activities that are both rigorous and relevant covering topics like nēnē behaviors, population growth, and diet.
A Teacher's Guide to Endangered Birds of Hawai'i:  As part of our rich natural heritage, the native birds of Hawai'i can be a fascinating topic of study. By exciting your students' curiosity to learn more about these birds, you may open the door to a new opportunity for discovering more about the diverse and colorful wildlife Hawai'i has to offer. The activities presented in this guide are designed to raise students' awareness so that as concerned citizens they may help to prevent further loss of Hawai'i's unique and endangered bird species. Use the Printable Activities (Grades 3-7) and Coloring Book Fact Sheets (Forest Jewels Coloring Book) together to expand student knowledge of our native forest birds.
Downloadable Activities
Visit our Activities page for coloring books, finger puppets, postcards, board games, and other activities you can download to use in your classroom.
Outdoor Activity Ideas
Project Learning Tree has a number of outdoor activities you can use with young learners to get them engaged with nature right in your neighborhood. Visit the Project Learning Tree website to learn more. 
Books & Posters
DOFAW and partners have produced a beautiful, photo-rich book that tells the ecological stories of our islands. Wao Akua: Sacred Source of Life is available for teachers at a 30% discount at our Kalanimoku Building office. It is also available in local bookstores.
DOFAW also has a wide selection of educational posters developed in house and by our partners.  These teaching tools are available to educators in Hawaiʻi at no cost. Posters are available at most DOFAW offices or by contacting the DOFAW Administrative office at (808) 587-0166.
Available posters include the following: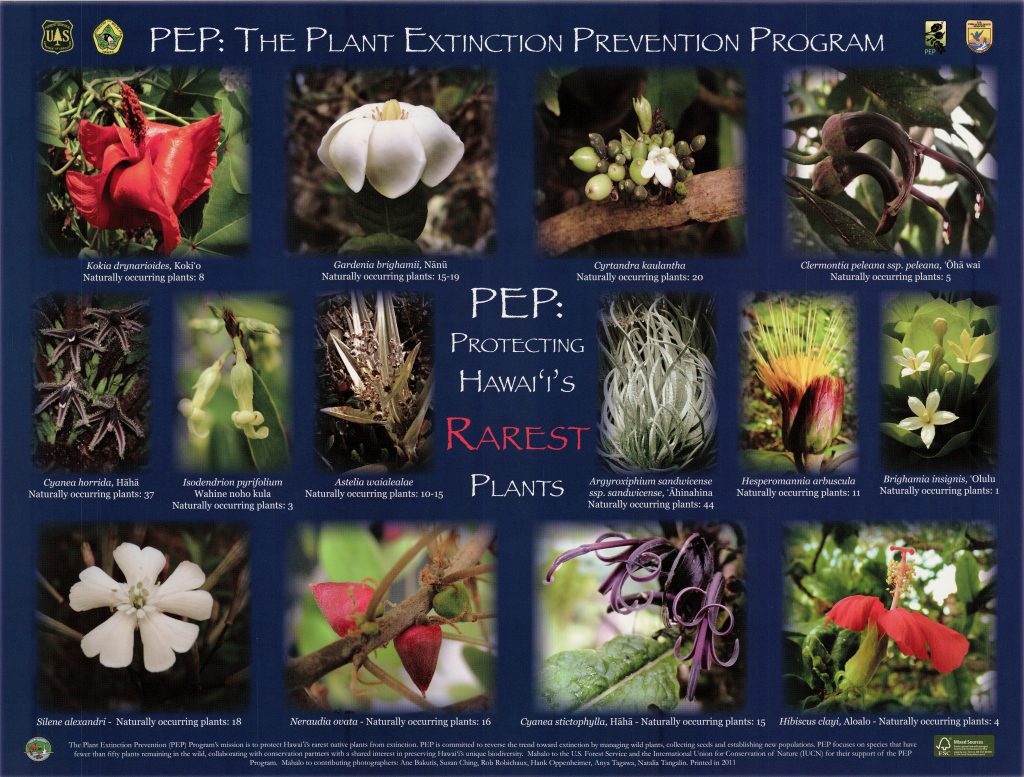 PEP: The Plant Extinction Prevention Program ^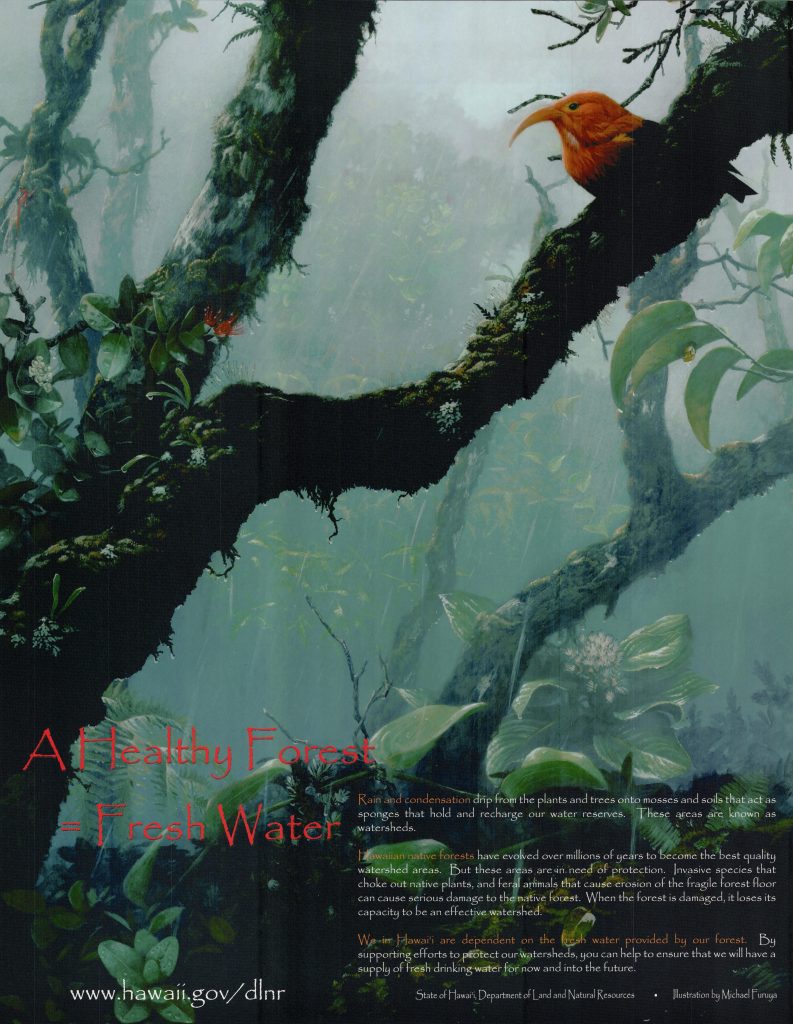 A Healthy Forest = Fresh Water ^
Hawaii's Wetlands: Mauka to Makai ^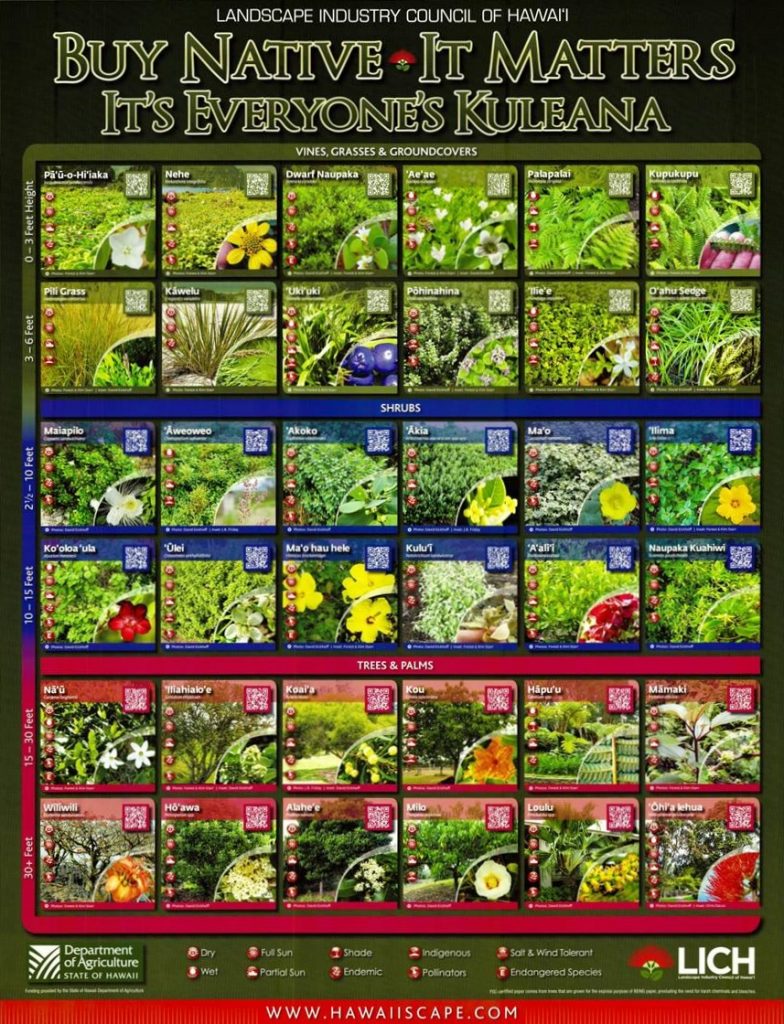 Landscape Industry Council of Hawai'i: Buy Native ^

Nā Pueo ^

Nēnē ^