Educational and Technical Resources
Educational and Technical Resources
TECHNICAL RESOURCES
Oahu Urban Tree Canopy Assessment
Kaulunani has conducted two Urban Tree Canopy Assessments of the major urban centers of O'ahu. The study area includes 250 square miles of Leeward and Windward O'ahu. The initial assessment completed in 2012 identified where trees are located, the extent of the canopy, as well as ownership and potential planting sites for enhancing the urban tree canopy. In 2016, we conducted a second Urban Tree Canopy analysis to assess the degree of change our a four year period from 2010 through 2013. What we found was alarming.
Honolulu is losing tree canopy; in fact, we lost nearly 5% of our total urban tree canopy over four years. The majority of losses were in non-public zoning areas. Net Residential losses alone totaled 355 acres representing 39% of all the tree canopy loss. All land use areas saw decreases; even our conservation areas saw a 1% loss in tree canopy.  Close to 98% of the losses were less than a quarter acre each and spread widely across the landscape. These losses equate to at least 76,600 trees. New plantings did occur totaling about 230 acres, which is far short of what is needed to keep pace with the losses, especially considering the time required to grow a canopy.
Honolulu is not alone; urban forests are declining in many cities, and studies show a direct connection to declining human and environmental health because of it.
Trees and tree-lined streets lead to more liveable and cooler communities as well as healthier people. In addition, trees not only improve air quality, stormwater control and coastal water quality but also enrich businesses and provide energy savings.
---
City and County of Honolulu, Division of Urban Forestry (DUF) & Office of Climate Change, Sustainability and Resiliency (CCSR): Urban Tree Plan
This document describes the benefits of trees, sets goals, and a vision for the urban tree canopy in Honolulu. Implementation strategies to achieve those goals are then described in detail.
---
City and County of Honolulu, Hawai'i Municipal Forest Resource Analysis
2007 Technical report by the Center for Urban Forest Research, which combines results of a partial citywide inventory with benefit-cost modeling data. Value is calculated for benefits such as energy savings, CO2 reduction, air quality improvement, stormwater runoff reductions, aesthetic, property value, social, economic and other benefits.  The report is based on 43,000 inventoried street trees and thus represents only a fraction of the entire urban forest of Honolulu. Nonetheless, the value of these benefits is still substantial.
---
Urban Forestry Emergency Operations Planning Guide for Storm Response
This user friendly guide provides urban forestry professionals concrete approaches when preparing for natural disasters that impact the urban forest.
---
Maui County Planting Plan
"The Maui County Planting Plan (MCPP) was prepared by the Maui County Arborist Committee… to serve as a guide for government officials, design and landscape professionals, and the public. It provides information on the planting, replanting, care, pruning, preservation, and disposition of Exceptional Trees, trees in general, and other landscape plants in Maui County parks and public rights-of-way." (MCPP Preface)
---
Planting Details and Specifications (International Society of Arboriculture)
Dr. Ed Gilman from University of Florida, Jim Urban, FASLA, and Brian Kempf and Tyson Carroll of the Urban Tree Foundation have developed a modern, up-to-date, and peer reviewed set of details and specifications in AutoCAD, PDF, and Microsoft Word formats for the green industry. These are designed specifically for landscape architects, engineers, architects, contractors, urban foresters, arborists, municipalities, and state agencies.  All these files are open source, free, and can be edited by the user.
---
Exceptional Tree Program
"In 1975, the Hawai'i State Legislature found that rapid development had led to the destruction of many of the State's exceptional trees and passed Act 105 – The Exceptional Tree Act. The Act recognizes that trees are valuable for their beauty and they perform crucial ecological functions. It mandates each county to establish a County Arborist Advisory Committee which enacts regulations to protect trees of exceptional stature. Each county has its own program, set of rules and operating guidelines."
---
US Forest Service Urban Tree Monitoring Resources
Urban Tree Monitoring: Field Guide: This US Forest Service report provides detailed protocols for urban tree monitoring data collection. Specifically, it discusses the core variables necessary for field-based monitoring projects, including field crew identification, field crew experience level, tree record identifier, location, site type, land use, species, mortality status, crown vigor, and trunk diameter. The intent of this Field Guide is to serve urban forest managers and researchers who collect longitudinal field data on urban trees, as well as interns and citizen scientists. 
Urban Tree Monitoring: A Resource Guide: The guidelines proposed in Urban Tree Monitoring: A Resource Guide (hereafter referred to as the Resource Guide) were developed and refined over many years to address the need for standardized urban tree monitoring protocols. The Resource Guide provides in-depth guidance for urban forest managers and researchers who want to design and implement a tree monitoring project. This Resource Guide is a companion to Urban Tree Monitoring: A Field Guide; however, the Resource Guide can also be used on its own.
---
EDUCATIONAL RESOURCES
Firewise Tree Care and Landscaping – Downloadable Flyer PDF
Tips for Firewise tree care and landscaping developed by Kaulunani in conjunction with the Hawaiʻi Wildfire Management Organization and the Firewise USA Hawaiʻi Program.
How Hawaii's Counties Regulate Trees: Urban Forestry County Regulation Reference Guide (Reference Guide 415KB PDF)
The purpose of this summary paper is to serve as a broad overview of all existing county regulations that function to regulate trees in some way for four of Hawai´i's counties: City and County of Honolulu, Maui County, Hawai´i County, and Kaua´i County. The supplemental excel tables are to function as a county tree regulation reference of ordinances, charter sections, and general plan policies and objectives. 
How Hawaii's Counties Regulate Trees: Urban Forestry Research Tables (Downloadable Sheets 344KB  Excel .xlsx)
The supplemental excel tables are to function as a county tree regulation reference of ordinances, charter sections, and general plan policies and objectives. Please also download the Reference Guide above. 
 Deflecting the Wave: Using Coastal Vegetation to Mitigate Tsunami and Storm Surge(Final Report 40MB PDF)
The goals of the research described in this report was to focus on Hawaii and other Pacific islands to: (1) conduct research on the type of vegetation that has survived past tsunami and storm surge events, (2) gather information on vegetation that grows near the shore in Hawaii given different environmental factors; (3) examine whether past or existing vegetation has had an effect on mitigating beach erosion due to wave impact; and, (4) establishment of experimental coastal reforestation plots for evaluation of coastal re-vegetation planting strategies. 
Coconut Rhinoceros Beetle eradication effort (Pamphlet 1.76MB PDF) Information on the eradication effort for this pest recently discovered on Oahu and how to help!

Why Would Anyone Cut A Tree Down (Downloadable Book 1.6 MB PDF ) "we may not want to, but sometime we need to…" A children's book about the benefits of trees and why, sometime we have to cut them down. Includes tips for choosing and planting right.
---
GRANT RECIPIENT RESOURCES
Canoe Plant Tree Giveaways for the Health and Resiliency of the Lahui: A partnership for Kauaʻi and Molokai, 2020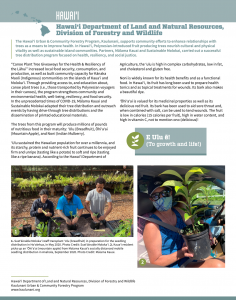 In 2020, Mālama Kauai and Sustainable Molokai carried out a successful tree distribution program focused on health, resiliency, and social justice. This project is a collaborative effort brought forth from the Hawai'i Good Food Alliance (HGFA).
---
Tree Care Guidelines and BMPs for Manu-o-Ku Nesting Sites by the Aloha Arborist Association, 2019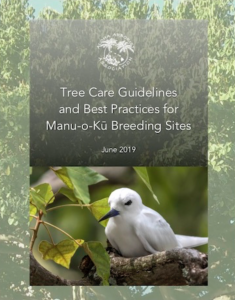 This 2019 project lead by the Aloha Arborist Association developed open access guidelines and best management practices for tree care near legally protected manu-o-Kū nesting sites. This project produced a published and comprehensive set of standards for tree pruning and other tree care activities to effectively work with wildlife in general.
---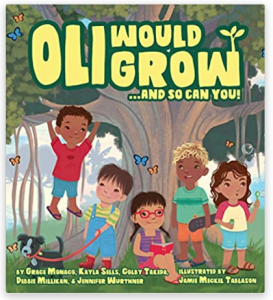 Oli Would Grow, Children's Picture Book by Blue Zones Project and Washington Middle School, 2019
Oli Would Grow is a fun children's book exploring our food stories and the many ways in which trees, plants, farms, and gardens can help us increase access to local produce. Oli Would Grow was written by 'Iolani 9th grader Grace Monaco, Roosevelt High School 9th grader Kayla Sells, 'Iolani School sustainability coordinator Debbie Millikan, Washington Middle School English teacher Jennifer Wurthner, and Colby Takeda of Blue Zones Project Hawai'i; Illustrations by Jamie Meckel Tablason.  100% of book proceeds are being donated to the Hawai'i Farm to School Hui.
---
Project TreeHooo! by Paiko, 2019
TreeHooo! has created several PSAs and commercials to inspire the people of Hawaiʻi to care for and plant trees around their homes.
---
Hawaiʻi Forest Institute: Go Native: Growing a Native Hawaiian Urban Forest, 2020
Radio Interview: Imagine a vast system of forestry connecting through Hawaii's urban sectors from Mauka to Makai.It's an ambitious goal, but it's one that Paul Arinaga and Travis Idle are working to realize. They believe that if even a fraction of island residents take an active interest in the cultivation of endemic Hawaiian plants, the state of conservation in Hawaii would be in a much better place. They recently spoke to Hawaii Public Radio producer Harrison Patino about their project, listen to the interview!