Lehua Island Ecosystem Restoration Project
UPDATES
Update 8-20-18: 

FINAL MONITORING REPORT ISSUED ON LEHUA RESTORATION PROJECT

No rodenticide found in environmental samples, minimal impact to species other than rats

(Honolulu) -The National Wildlife Research Center (NWRC) of the US Department of Agriculture has provided the Department of Land and Natural Resources (DLNR) with a final report of its monitoring efforts relating to the presence of diphacinone, an anticoagulant rodenticide, used as part of an effort to restore native species habitat on Lehua Island. The multi-feed bait containing the rodenticide was applied to the island in August and September 2017. This is an attempt to eradicate invasive rats from the island and increase reproductive success for native birds and plants.

As part of an independent environmental monitoring program, NWRC collected samples of seawater, soil, crabs, opihi, fish, and birds for several weeks following the application of bait. Samples were analyzed by NWRC scientists for the presence of diphacinone, the active ingredient in the bait. Diphacinone was selected as the primary eradication tool for use by the project due to its relatively low toxicity risk to individual non-target species (i.e. any species other than rats).

The final report from NWRC validates the Environmental Assessment's (EA) analysis that environmental impacts would be limited, short-term and would involve minimal non-target mortality. The EA and other permits required for the project anticipated and authorized an anticipated but nominal amount of bait 'drift' into the nearshore marine environment; further corroborating effectiveness of the projects operational plan to avoid and mitigate risks to non- target species including marine life. In the report, NWRC documented no detectable levels of diphacinone in any sample of seawater, soil, opihi, and seabirds. Three (out of 12) crabs contained detectable levels of diphacinone immediately following rodenticide applications, but no diphacinone residues were found two weeks after the final bait application. Diphacinone has been documented to have virtually no effects on invertebrates. Continued Download and read full News Release here.

Download the full NWRC report from the following link: NWRC  Lehua diphacinone residues report

Update 6-18-18 : The LIERP deploys rat detecting dogs to Lehua Island to try and find few remaining rats. Read full story here.

Dogs Sniff Out Rats on Lehua Island from Hawaii DLNR on Vimeo.

Update 3-27-18 : Ongoing monitoring efforts on Lehua Island since September have turned up less than ten sightings of rats on cameras and other monitoring devices installed on the island. This is an indication of very low numbers of rats on Lehua. Targeted efforts to  eliminate these rats (traps, bait boxes, etc.) have been deployed and more will be deployed soon. Birds are continuing to do well with no signs of rat attacks on eggs, chicks, or adults on nests. Plants that were previously consumed by rats are persisting. Many of the plants continue to be flush with green leaves. Further monitoring will occur on a regular basis to determine the status of Lehua Island.
Eradication opperation status: The Lehua Island Ecosystem Restoration Project completed its 3 applications of rodent baits on 9/12.

Post-application monitoring of Lehua Island will continue for several months to determine the success of the rat eradication effort and environmental response. Check back to this website to receive regular updates on observations and results.
The first bait application of three was completed on 8/23. The second application was completed on 8/30. The third and final application was completed on 9/12.
Phone Updates: The phone message has ended and will no longer be updated.
Mariners: All marine activities should continue as normal. All marine resources including fish, crabs, and opihi are safe to consume. 
Answers to Frequently Asked Questions (FAQ): These three FAQs should answer many of the questions you may have about the Lehua Restoration project. Updated Lehua FAQ, a Community Update FAQ, and the Community Meeting FAQ.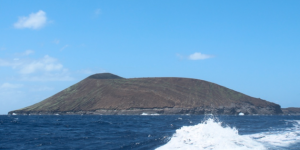 Lehua Island is a 284-acre island located three-fourths of a mile off the northern shore of Niihau (a privately owned 46,080-acre island). Lehua is a state-designated seabird sanctuary managed by the Hawaii Department of Land and Natural Resources (DLNR) and federally owned by the U.S. Coast Guard (USCG). Lehua is one of Hawaii's most important seabird colonies because of its size and height above sea level.  It also offers a unique opportunity for restoring an island ecosystem.
Learn more about the Lehua Island Ecosystem Restoration Project by watching the 30-minute TV special that was locally broadcast on KFVE:
Lehua Island-Restoration of a Tropical Bird Paradise from Hawaii DLNR on Vimeo.
DLNR Division of Forestry and Wildlife (DOFAW), in conjunction with federal sponsor United States Fish and Wildlife Service (USFWS), technical partner Island Conservation (IC), and the cooperating members of the Lehua Island Restoration Steering Committee (LIRSC) are working together toward the eradication of rats from Lehua Island so further restoration efforts can move forward in the future.
To learn more about the Lehua Island restoration project, you can read the Executive Summary of the project.
The State's Final Environmental Assessment and Finding of No Significant Impact for the Lehua restoration project became available in the Environmental Bulletin published by the Office of Environmental Quality Control on July 23, 2017. You can review this document at the link below. 
The Federal Final Environmental Assessment and Finding of No Significant Impact for the Lehua restoration project is now available at the Pacific Islands Fish and Wildlife Office website.