Lehua Island Ecosystem Restoration Project
Current status: The Lehua restoration project has begun implementation and will continue August-September 2017, pending weather conditions. Check back to this website to receive regular updates on operations.
Update 9-12-17, 1pm: The first bait application of three was completed on 8/23. The second application was completed on 8/30. The third and final application on 9/12 has been completed. Post-application monitoring of Lehua Island will continue for several weeks. Further monitoring will occur or a regular basis to determine success of the eradication and environmental response.
Phone Updates: Those who would rather make a call to get updates can call the Lehua Restoration Project's Update Phone Message at 808-587-4199. Note that this is an informational phone message only. No person will answer this phone or any messages left at this number.
Notice to Mariners: The Coast Guard has issued a Notice to Mariners advising mariners to stay 550 yards away from Lehua Island and the Lehua Channel for safety reasons during bait applications.  This is to prevent safety hazards related to the use of the helicopter and bait bucket transiting the channel and flying around Lehua Island. This safety area is in force during the applications.  All marine activities may resume as normal after each application has ended. 
New Answers to Updated Frequently Asked Questions (FAQ): There have been a number of questions that have surfaced since we we first published a FAQ on this site.  You can now read our Updated Lehua FAQ, a Community Update FAQ, and the Community Meeting FAQ which answers questions raised at the July 25th public information meeting.  These three FAQs should answer many of the questions you may have about the Lehua Restoration project.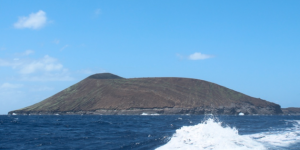 Lehua Island is a 284-acre island located three-fourths of a mile off the northern shore of Niihau (a privately owned 46,080-acre island). Lehua is a state-designated seabird sanctuary managed by the Hawaii Department of Land and Natural Resources (DLNR) and federally owned by the U.S. Coast Guard (USCG). Lehua is one of Hawaii's most important seabird colonies because of its size and height above sea level.  It also offers a unique opportunity for restoring an island ecosystem.
DLNR Division of Forestry and Wildlife (DOFAW), in conjunction with federal sponsor United States Fish and Wildlife Service (USFWS), technical partner Island Conservation (IC), and the cooperating members of the Lehua Island Restoration Steering Committee (LIRSC) are proposing to complete the eradication of rats from Lehua Island so further restoration efforts can move forward in the future.
To learn more about the Lehua Island restoration project, you can read our Frequently Asked Questions document and the Executive Summary of the proposed project.
The State's Final Environmental Assessment and Finding of No Significant Impact for the Lehua restoration project is now available in the Environmental Bulletin published by the Office of Environmental Quality Control on July 23, 2017. You can review this document at the link below. 
The Federal Final Environmental Assessment and Finding of No Significant Impact for the Lehua restoration project is now available at the Pacific Islands Fish and Wildlife Office website.
Learn more about Lehua and the proposed project by watching the video below:
Lehua Rat Eradication Draft EA Aerial Tour from Hawaii DLNR on Vimeo.