Kaulunani Urban & Community Forestry Program
The Kaulunani Urban and Community Forestry Program focuses on improving the health and viability of trees in Hawai'i communities through educational programs; financial support in the form of cost-share grants; technical training; Arbor Day promotions and public/private partnerships. Funding comes from the State and Private Forestry Branch of the USDA Forest Service. Since its inception in 1991, Kaulunani has awarded more than $2.6 million to 376 organizations across the state, in the form of cost-share grants that were matched with $7 million in cash and in-kind contributions.
Kaulunani Mission Statement
Balance the urban and natural environment by encouraging, empowering and equipping the people of Hawai'i to mālama the trees in our 'āina.
Guiding Document
The Kaulunani Program is guided by the State's Forest Action Plan. The Kaulunani Council worked as part of the Hawai'i Forestry team to analyze forest-related conditions, trends, threats, and opportunities within the State, to assure that federal, state, private and community resources focus on important issues. The 2016 urban forestry section can be found here.
Program Goals
The primary goals of the urban and community forestry program are:
Improve the understanding of the benefits of trees in urban areas and communities.
Increase tree canopy cover.
Reduce carbon emissions, conserve energy, improve air quality and increase other environmental benefits.
Support community tree planting and tree demonstration projects.
Support Arbor Day activities.
Enhance the technical skills and knowledge of the urban forest industry.
Expand research and educational efforts.
Kaulunani has grown from a program primarily focused on tree planting projects and education, to one that engages in challenging topics such as invasive species control, the role of trees in shoreline protection and restoration practices, measuring the environmental benefits of street trees, and other unique projects such as supporting chemical trials for control of the Erythrina Gall Wasp.
The key to the success of this program is the blend of partners, people, and projects. Project elements such as environmental change, advanced planning, leadership, volunteer commitment, community involvement, interagency partnerships, appropriate plant selection, proper horticultural procedures and maintenance became leading indicators of successful urban forestry projects.
Kaulunani helps communities improve the quality of life within the built environment through actively participating in urban forestry projects and gaining a better understanding of the role trees play in cities and neighborhoods.
Featured Project
Citizen Forester Program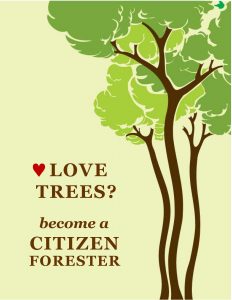 Kaulunani is expanding it's Citizen Forester Program! We are currently training Citizen Foresters to inventory trees in Honolulu, Oahu. This project involved partners* and experts in training and education to employ citizen science as a viable approach to gain knowledge and community support for urban forests. Utilizing a software application by Plan-it Geo, Citizen Foresters in Kailua have inventoried nearly 4,000 trees so far!  EXPLORE OUR ONLINE MAP
*Partners:
City & County of Honolulu, Division of Urban Forestry
The Aloha Arborist Association
The Outdoor Circle
University of Hawaii
Smart Trees Pacific
This work is being funded entirely or in part by the Kaulunani Urban and Community Forestry Program of the DLNR Division of Forestry and Wildlife; and State and Private Forestry, branch of the U.S. Forest Service, Department of Agriculture, Region 5