Kōlea lau nui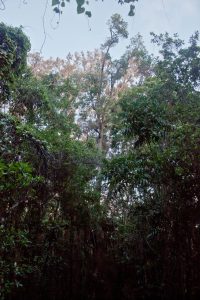 Common Name: Colicwood
Scientific Name: Myrsine lessertiana
Year Nominated: 2017
Nominated By: Karl Magnacca
Height: 59 ft
Circumference: 66 in
Crown Spread: 22 ft
Total Points: 131
Location: Kῑpukapuaulu Hawai'i Volcanoes National Park, Hawai'i
Range: This species is endemic to Hawaii except for Ni'ihau and Kaho'olawe. Kōlea lau nui can be found growing in wet forest and subalpine shrubland at elevations ranging from 600 to 6,000 feet.
About this species: Kōlea have extremely glossy, light green leaves that are bright pink when young. Flowers of this tree emerge from woody knobs along branches and are small with purple tinges. Pollinated flowers will develop into tiny black fruit.
Significance: Ancient Hawaiians found many uses for this tree, carving gunwales for canoes, house posts, and anvils from its wood.  Kōlea lau nui bark was also steeped to create a rich red dye while its charcoal was used to create black dye. Kōlea wood is still used today for woodcraft.
 View another Hawai'i Big Tree Champion:
A'ali'i || Hau || Kāwaʻu || Koa || Kokiʻo Keʻokeʻo || Kōlea lau nui || Lama ||        Lonomea || Māmane || Mānele || Maʻo hau hele || Nenelau || Niu || 'Ōhi'a ai ||        'Ōhi'a ha || Olopua || Pāpala kēpau || Wiliwili