Big Tree: 'Ōhi'a ai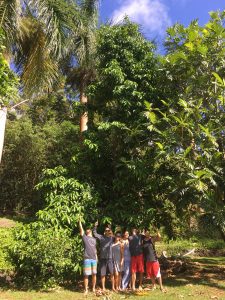 Common Name: Malaysian Apple
Scientific Name: Syzygium malaccense
Year Nominated: 2017
Nominated By: Kyle Kagimoto  (The Kagimoto Family)
Height: 42 ft
Circumference: 30 in
Crown Spread: 28 ft
Total Points: 79
Location: Lawa'i, Kaua'i
Range: This species grows in low elevation wet to mesic (moderately wet) windward forests and valleys in Hawaii.
About this species: The 'Ōhi'a ai is not native to Hawaii, rather, this naturalized Polynesian canoe plant is native to Malaysia and Indonesia. 'Ōhi'a ai was used in traditional Hawaiian medicines. When mashed or chewed the bark of this tree was taken for sore throats. Bark liquid, combined with salt could be used to heal lacerations. Wood of the 'Ōhi'a ai was considered sacred in ancient Hawaii and was used to sculpt kii, religious images.
Interesting Fact: Located on a private family lot in the district of Kōloa/Lāwaʻi, this 'Ōhi'a ai was planted well before the Kagimoto family purchased the home in 1992. The tree has impressively survived the famous Hurricane Iniki which had severely damaged two neighboring houses, and possibly even survived Hurricane Iwa in 1982. We are told this 'Ōhi'a ai gives nice big, juicy and dark red fruit. Yum! 
View another Hawai'i Big Tree Champion:
A'ali'i || Hau || Kāwaʻu || Koa || Kokiʻo Keʻokeʻo || Kōlea lau nui || Lama ||        Lonomea || Māmane || Mānele || Maʻo hau hele || Nenelau || Niu || 'Ōhi'a ai ||        'Ōhi'a ha || Olopua || Pāpala kēpau || Wiliwili