Mānele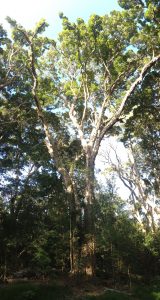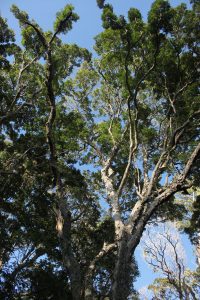 Common Name: Soapberry Wingleaf
Scientific Name: Sapindus saponaria 
Year Nominated: 2017
Nominated By: Karl Magnacca
Height: 71 ft
Circumference: 160.5 in
Crown Spread: 68 ft
Total Points: 249
Location: Hawai'i Volcanoes National Park,  Hawai'i
Range: This tree species can be found growing in moist forests on the island of Hawaii at elevations ranging from 2900 to 4500 feet.
About this species: The Lonomea tree is indigenous to Hawaii. More commonly referred to as soapberry, this tree species was named in reference to the saonin or soapy substance that comes from the fleshy seeds.
Significance: In the past, the fruit pulp of the Lonomea was used as a soap for hair and laundry. The black seeds this tree yields were strung as permanent lei or necklaces by early Hawaiians, a tradition that continues today.
View another Hawai'i Big Tree Champion:
A'ali'i || Hau || Kāwaʻu || Koa || Kokiʻo Keʻokeʻo || Kōlea lau nui || Lama ||        Lonomea || Māmane || Mānele || Maʻo hau hele || Nenelau || Niu || 'Ōhi'a ai ||        'Ōhi'a ha || Olopua || Pāpala kēpau || Wiliwili