Pāpala kēpau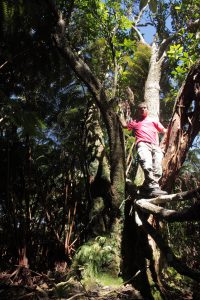 Common Name: Australasian Catchbird Tree 
Scientific Name: Pisonia brunoniana 
Year Nominated: 2017
Nominated By: Karl Magnacca
Height: 53 feet
Circumference: 130 inches
Crown Spread: 32 feet
Total Points: 191
Location: Hawai'i Volcanoes National Park, Hawai'i
Range: Pāpala Kēpau can be found in dry to mesic forests at elevations ranging from 1,395 to over 4,000 feet.
About this species: This species is native  to the main Hawaiian islands of O`ahu, Moloka`i, Lāna`i, Maui, and Hawai`i. The fruit of the Pāpala Kēpau is extremely sticky and will trap small creatures and insects that, if caught, will eventually succumb to a slow death.
Significance: The sticky material produced by Pāpala Kēpau fruit was traditionally used by early Hawaiians to catch native birds, who's colorful feathers were plucked and used to create vibrant cloaks, helmets, lei, images, and kāhili. This species was also used for medicinal purposes. The tree's mily sap was used to heal cuts while its cooked leaves could be used to cure pāʻaoʻao (childhood disease with physical weakening) and for lepo paʻa (constipation).
View another Hawai'i Big Tree Champion:
A'ali'i || Hau || Kāwaʻu || Koa || Kokiʻo Keʻokeʻo || Kōlea lau nui || Lama ||        Lonomea || Māmane || Mānele || Maʻo hau hele || Nenelau || Niu || 'Ōhi'a ai ||        'Ōhi'a ha || Olopua || Pāpala kēpau || Wiliwili